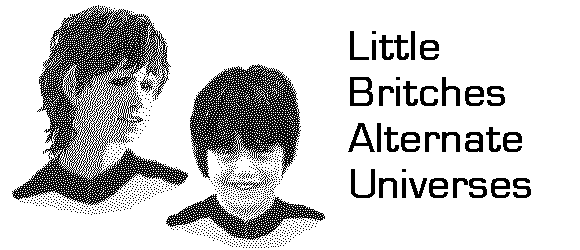 ---
Thanks to LaraMee, Rick, Sage and Sunni for their assistance in writing a synopsis for each story
Select a Little Britches Universe



Small Treasures - Nancy W. (Dungeons & Dragons)
The village of Blackcliffe contains a hidden treasure and Chris, Buck, Nathan and Josiah are hired to defend the village from attack. The battle isn't going well until three little warriors help turn the tide, and steal the hearts of the men.
Outcasts - Jeanne (Dungeons & Dragons)
The weight of the world is on little elf Vin, when he realizes the town refuses to help injured Chris because of Vin's heritage.
Spell Bound - Jeanne (Dungeons & Dragons)
Chris is captured and tortured in an attempt to find the Everborn. Vin meets a community of half-elves who beckon him to join his own kind.
Did He Just Say Frolic? - 2 - MMW (Dungeons & Dragsons)
A Dungeons and Dragons ficlet - Chris worries when Vin is late in returning
Malediction - Jeanne (Dungeons & Dragons)
Ezra tries his wizardry with disastrous results for Vin.

Follow The Stars Home - Winter (Star Trek)
On his first mission as Captain of the USS Regulator, Chris Larabee and his crew respond to a distress beacon discovering two small children living in the wreckage of a ship. When Vin overhears that they will be separated, the boys run away, leading to a traumatic accident. Will the crew find them in time? Will they convince Capt. Larabee that the USS Regulator is a good home?
JOY'S BIRTHDAY 'ZINE... (Collection)
1. A Box Full of Moons - Nancy W. (Star Trek)
The Regulator hosts a variety of diplomats and Larabee and Crew are hard put to keep Vin and JD out of the way. When a theft is discovered, they find out just how good the little ones are at their own brand of diplomacy.



Gathering the Flock - KT (Lost Lambs)
Wichita - 1932: a string of unusual circumstances bring together three young boys and four men. This is the first story in the Lost Lambs AU.
It's Not Easy - KT (Lost Lambs)
Vin learns that being in the middle is not an easy place to be when he tries to impress Ezra and still play with JD as well.
Whispers of History - MMW (Lost Lambs)
A Lost Lambs Universe story - with a trip to Tombstone and Old West ghosts.
The Case of The Golden Blooms - KT (Lost Lambs AU)
The boys do their own detective work and help solve the case of the missing blooms.
Escape - KT (Lost Lambs AU)
Ezra has a toothache and doesn't want to see the dentist in Eagle Bend. A promised trip to the movie house turns into a disaster.
Pressure - Tapestri (Lost Lambs AU)
Chris and Buck's plan to help Ezra feel free to voice his desires backfires when he feels forced to choose between them.



The Accident - Heather M. Future LB
Choices... Decisions... lead to an accident for Vin
All Good Things... - Synr (AU)
A small boy with a bloodied lip revives long buried memories for Ezra. Should he answer unanswered questions? Questions that could turn someone's world upside down...
Angel - Tidia (Future ATF)
A chance encounter with the past stirs up a difficult time for Vin.
A Brother to Count On - Phyllis (Future ATF)
When seventeen year old Vin and fifteen year old JD are in an automobile accident, more then JD's leg is broken. The anguished teen witnessed a friend burn to death in the car that hit them. Can the team and Vin help JD recover...
Death of an Innocent - K (Future AU) [DEATHFIC]
Teen-age drinking and driving results in horrific and devastating consequences.
Fear Factor - Estee (FUTURE ATF)
Buck's injury coupled with natural disasters bring an unusual reaction for Vin.
For Some Things Big Brother Knows Best - Robijean (Future ATF)
JD seeks advice for the prom from his big brother
Full Circle - S Larabee Tanner (Future ATF)
Grown up Vin reflects back in this short piece that brings him home again.
Guardians - Jen R ( Future ATF- Legacy Series)
Vin and David assist a fellow officer at the scene of a crime. The suspect is someone they all know is not a thief.
A Gift of Family - Jen R ( Future ATF - Legacy Series)
Vin introduces his college roommate to the family.
Growing Pains - Angie (Future ATF)
Vin is seventeen and stretching his wings. Chris makes some mistakes and Vin's rebellious response leads to trouble on a lonely road.
His Choice - Spice (Future ATF)
At seventeen, Basketball Captain Vin Tanner is a young man any girl would love to date. When he chooses a girl that prefers books to parties, he is teased by his friends and even JD. But it's a fairytale come true when his date becomes the belle of the ball...
Life Choices and Mistakes - Robijean (Future ATF)
JD contemplates school choices made in his early years and how they are affecting his life now.
Memories - KT (Future ATF)
Vin and JD are ready to leave home and are reminiscing on their last day together.
Mission Accomplished - Anneack (Future ATF)
Two boys, a dog and cake mix. What could go wrong?
Only Now - Subjective Reality (Future ATF)
Follows the storyline presented in "Pride" by Tidia. Vin is returning home from the army, but in four years a lot has changed. Will he still fit in his family? Will they accept the changes in Vin?
A Past Presence - Jen R ( Future ATF - Legacy Series)
The arrest of a suspect brings back old insecurities when the suspect turns out to be someone from Vin's past.
The Permit - Robijean (Future ATF)
A normal teen-age event causes a crisis of faith for Vin. Although he loses faith in himself, JD's faith never wavers.
Picture Perfect - Spice (Future ATF)
A continuation of "His Choice". Vin and Anne explore a new relationship and get acquainted with their families
Pride - Tidia (Future ATF)
The family deals with Vin's decision to enlist in the Army
A Right Good Christmas - Spice (Future ATF)
Vin is out of luck searching for the perfect gift for his girl until Ezra comes through unexpectedly while undercover... and in turn Vin brings about an unexpected end to the case.
Seven Years - Estee (ATF - Future LB)
What if after the boys were adopted JD's biological father showed up and disrupted their happy home?
Snow Bound - Anneack (Future AU)
A horseback accident during a vacation in Yosemite lands Vin and JD in big trouble as a storm closes in.
Stolen Moment - MMW (Future ATF)
Forty years into the future and Chris has had a stroke and is in the hospital, fighting for his life. This time it's Vin's turn to be there for his father as he fights to keep the man he loves from dying...
The Thing About Time - Cass (Future)
Reflections on the passage of time in the family
This Was Really a Bad Idea - Anneack (Future ATF)
The boys do something not really bright and find out first hand that there are reasons for rules.
To Be Seen Through Tears - Xiola (Future ATF)
Vin has been gone for four years, what happens when the team find him in Jail?
Twisted Traditions - Estee (Future ATF)
It's Buck's birthday and JD has just the right gift, or does he?
The Wages of War - Phyllis (Future ATF)
A touching look at those left behind when one of the family goes to serve his country.
Within Boundaries - Tidia (Future ATF)
A simple push at school turns into involuntary manslaughter and Vin's life is changed forever.



A Distance to Home - Tidia (Future OW)
After a prolonged separation, will Vin choose to return to Chris or will he stay with his new family?
Four Days - Gray (Future OW)
Everyone questions Chris's decision to allow Vin to go back to Kojay's camp after the ten year old was witness to traumatic events at the camp. It's more than Vin's body that needs healing and perhaps Kojay has the answers that he needs.
Merging Lives - Subjective Reality (Future OW)
Follows the themes established in "Four Days". Vin continues to explore his place and the events that have changed him.
Ponderings - MMW (OW/AU)
Vin is pondering, and makes some strange conclusions.



Found Treasures - Phyllis (Vengeance)
Five times the 'Vengeance' has been out in search for pirates and finally they find the dreaded 'Midas' and take down Captain Sullivan. More then treasure is found on board, however, as Buck and Chris rescue two small and frightened boys and take them home... (First Story in the Vengeance LB Universe)
Ask No Questions, Hear No Lies - KT (Vengeance)
While exploring the boys find a secret passage leading to a small, hidden cave, which they make their own. During a later visit, they are excited to find it full of treasure but who put it there? When the Kings soldiers come looking, will the boys tell them the secret, or stay mute and protect Chris and Buck...



Unwanted - Tapestri (Poem)
Let the Children Come - Tapestri (Poem)
Father's Day - Sue M (Poem)
Baptism Flight - Sylvia (Poem)



Refuge - Joy K (AU)
An alternate universe where eight year old Ezra, seven year old Vin and five year old JD find a home with Chris, Buck, Josiah and Nathan at North Pass Ranch following a flood.
Two-Thirty-Five - Joy K (AU)
An alternate universe where eight year old Ezra, seven year old Vin and five year old JD find a home with Chris, Buck, Josiah and Nathan at North Pass Ranch following a flood. In this story Ezra contemplates the new adults in his life as he makes a trek to the mailbox in hope of a letter from his mother
A Little Comfort - Joy K (AU)
The stresses of the flood, the loss of Rachel Dunne, and missing his mother become too much for one little boy to handle.
Long Distance - Joy K (AU)
Ezra's mother makes contact but everything goes haywire when she won't listen to him and he blurts out that JD's mother is dead.
Fallout - Joy K (AU)
The boys are struggling with the emotional trauma of surviving the flood as they begin to settle in at North Pass Ranch.
Midnight Run - Joy K (AU)
Things happen in the middle of the night that help Ezra take strides toward trust. JD confronts his anger over his mother's death.
Running Blind - Joy K (AU)
A good deed at a Car Wash goes terribly wrong resulting in near tragedy.
Rollaway - Joy K (AU)
A convenient, space-saving, borrowed rollaway bed has an unexpected result.
A Better Way - Joy K (AU)
Vin's troubled secret is revealed. Ezra struggles between his mother's way and Chris Larabee's way.
North Pass Ranch: Rebuilding - Joy K (AU) #500
The adults involve the boys in a special project in hopes that it helps them realize something good can come from the flood.
North Pass Ranch: Simmering - Joy K (AU)
It's hot. Too Hot. Ezra won't wear shorts. It's Buck's mission to find out why.
Calling Sheriff Dolittle - GinaD (North Pass Ranch)
Sheriff Larabee and his deputies deal with a series of small town mishaps.
No Place Like Home - Joy K (AU)
Several small mishaps on their first campout cause everyone to feel there's no place like home.
The Reluctant Artist - Joy K (AU North Pass Ranch)
Ezra struggles to find the joy of finger painting



The Mission Universe Universes
The World As We Know It - Estee (The Mission AU)
A new AU in a "Mad Max" type setting, with Vin, JD and Ezra as children.
Castles Built of Sand - Estee (The Mission AU)
Ella Gaines a deadly appearance in this second story in this "mad max" type universe. Will Ezra be reunited with the others? Will anyone survive Ella's wrath? Follows "The World as We Know It"



Treeline Ranch: Journey's End - Phyllis and Marian (AU)
Josiah Sanchez, along with his three stepsons, Ezra, Vin and JD, arrive at the ranch of Chris Larabee and Buck Wilmington and find a home with them and friend Nathan Jackson.
Escape to Shadow Mountain - Angie
The story of how the family comes together in a "Escape to Witch Mountain" type universe
A Hopeful Future - Anneack (AU)
A new take on how the boys joined the Seven
Mind Matters - Jeanne (AU)
The Haven AU, Little Britches style. This story introduces the guys and their special abilities. Chris and Ezra deal with their guilt over the deaths of Sarah and Adam, while Vin and JD fight to survive.
A Midnight Clear - Nancy W (AU)
Set in ancient Rome, this heartwarming story of Christmas miracles bring together the seven in gladiator days.
Plus One - MMW (AU of OW)
What happens when a baby girl is left on the door step?
Dark Travels - LaraMee (AU)
Mix Little Britches with Supernatural... Establishing story in the AU
A Change in Plans - Anneack (AU)
Set in the 50s alternate universe. Chris is told he can only keep one of his boys. Will it be Vin or JD? The search for w way to keep both boys brings a surprising result.
This Is for the Birds! - Anneack (AU)
Sergeant Larabee has a run in with the birds
Christmas Village - Anneack (AU)
Set in the 50s alternate universe. Christmas traditions pass on to the next generation as the family looks back on the Christmas Village.
THE MISS JESS CHRONICLES: Meeting Miss Jess - Hunter (AU)
A specialist is brought in to deal with Vin's dyslexia
THE MISS JESS CHRONICLES: Connecting - Hunter (AU)
Vin begins to bond with the specialist
THE MISS JESS CHRONICLES: Best Birthday Ever - Hunter (AU)
Vin celebrates a birthday and Miss Jess is there to help
THE MISS JESS CHRONICLES: It's Not A Date! - Hunter (AU)
Vin, Chris and Miss Jess go for a day out




Site maintained by Joy K