Tuesday, December 29,1998
Vin saw Professor Martinez walk over to where Chris and Buck were working with Mr. Yosemite.  The two professors spoke for a moment, then Professor Martinez said something to Chris.

A moment later Professor Martinez was walking away with Chris, his hand on the boy's shoulder.  They were heading toward the Defense of the Dark Arts building.

Vin watch them go, wishing he could run over and join his friend, but he had promised to rub the mama thestral down for Mr. Tiny, so he took a deep breath and started off toward the barns, not stopping again until he got there.

He wondered what it was Professor Martinez wanted with his big brother.
* ~ * ~ * ~ * ~ * ~ * ~ * ~ *
"Come into my office, Chris," Raphael said, opening the door and allowing the boy to enter first.

The blond walked in and glanced around.  He'd only been in Professor Martinez's office once before, and that had been in his first year, when he'd tried to do a stunning spell without permission.  He slid into a chair and asked, "Am I in trouble?"

"No," Raphael said as he walked around his desk and sat down, then changed his mind and got up, walking back around to take a seat in the empty chair next to the one Chris sat in.  "Chris," he said, "we need to talk about your parents."

The professor watched the boy's spine go rigid, and knew this wasn't going to be easy.  Taking a deep breath, Raphael amended that by saying, "I want to tell you about my father…"

Chris glanced up at the man, then looked away, wishing he could escape, but knowing he couldn't.

"My father died when I was about your age," the professor said.  "He, too, found a way to… forestall the inevitable."  He waited to see if Chris would say anything, and when it was clear that he wasn't going to, Raphael went on.  "At first I was just glad that my father was still there with me, but then, slowly, over the next two years, I noticed that he was changing…"

"My parents aren't changing," Chris said in a huff, folding his arms over his chest and trying not to listen.

"Not yet, perhaps," Raphael said, "but they will, just as my father did.  I didn't notice it at first, but after a time I could no longer remain so blind.  Everything around him began to grow dark and sickly.  I heard sounds, like the beating wings of bats in the shadows when I would go to visit him.  And the shadows themselves began to grab at my pant legs.  He grew darker as well.  His anger would explode, and he would yell at me, tell me that he was sorry I was his son…"

Chris' head came up despite his resolve not to listen.  It was impossible for him to imagine that the professor's father would be anything but proud of him.  He was an amazing teacher, and someone who risked his life to fight the Dark Arts.

Raphael shook his head sadly.  "He called me terrible names, and told me that he hated me."

Chris shivered.  He wouldn't imagine hearing that from his dad, or his mom, or even Sarah or Adam.  "He really did?"

"Yes, he did," Raphael replied.  "After a while his physical appearance began to reflect the way he was acting, what he was saying…  He began to change.  His teeth became fangs, his fingernails like claws.  Then, one day, he tried to kill me."

Chris heard himself gasp in surprise, but he refused to say anything.  His parents wouldn't try and kill him.  And neither would Sarah or Adam.

"But still I refused to believe what I was seeing before my own eyes…"

Raphael fell silent and Chris fidgeted in his seat for a couple of minutes before he finally had to ask, "What happened?"

The professor's lips pursed as he thought about how he ought to continue, and when he looked at Chris the boy could see that there were unshed tears standing in the man's eyes.  "He became a Shade, Chris.  And once he had, he was able to leave the place where he was staying…  Three people died."

Chris swallowed hard.  "Died?"

Raphael nodded.  "My mother… my older brother… and my baby sister."

"Your dad killed them?" Chris asked, confused.  How could that be true?

Raphael caught Chris' eyes and held them as he said, "When a soul becomes a Shade, they can no longer love.  They cannot even care.  All they want to do is to destroy life, and they will kill whoever they can lure to them.  Your family will become Shades as well, if you cannot allow them to crossover to whatever waits for them."

"But I can't!" Chris argued, his own eyes filling with tears.

"I know it won't be easy," Raphael told him, "but we will all help you, and so will your friends."

Chris shook his head, determined that the tears would not fall.

"Chris, if they become Shades, they will not be limited to that bracelet.  They will escape it, and then they will be here, at Horsefeathers.  Do you want to see anyone here get hurt, or killed?"

"They won't hurt anyone!" Chris yelled, the first of his tears spilling down his cheeks.

"Yes, they will.  Shades do not care.  All they want to do is to kill, to capture souls and control them in the land between the living and the dead."

"They won't!" Chris argued.

"I did not want it to come to this, Chris, but you need to see what will happen…"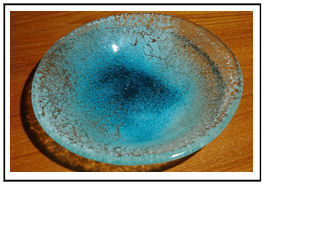 Raphael stood and walked over to a cabinet, opening the two doors.  Inside, on a shelf, was a blue and white glass bowl.  He took it out and walked back over to his desk, setting it down in the center.  He glanced over at Chris as he said, "This is a pensieve; do you know what that is?"

Chris nodded.  He'd heard about the strange device that could allow a person to see the memories of another.  The boy squirmed nervously as he watched Professor Martinez return to the cabinet for a bottle of silvery liquid, which he poured into the bowl.  Then, taking his wand, the man placed it against his temple and muttered something so softly that Chris couldn't make it out.

A moment later, the professor drew the wand away from his head, and a thin silvery wisp of… something trailed from the tip.

Raphael touched the tip of his wand to the surface of the liquid in the bowl and the silvery fluid turned a bronze color, swirling around the inside of the bowl.

"Come over here, Chris," Professor Martinez instructed.

Chris rose reluctantly and shuffled to the desk.

"You just need to bend over the bowl and stare into the liquid," Raphael told him.  "It will draw you into my memory."

Chris swallowed hard, and inched closer to the swirling liquid.  He glanced up at his professor, and Raphael nodded for him to continue.  "I don't want to," Chris growled.

"I know, but you need to see the truth to embrace it."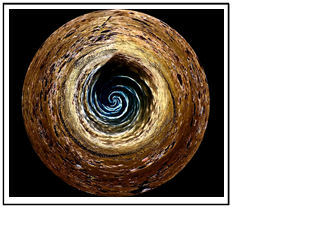 With a deep breath, Chris leaned over and stared into the swirling liquid, seeing the start of a blue-black vortex beginning to form in the center.  He was mesmerized by it and he leaned closer.  A moment later, he was standing inside a house he'd never seen before.  Nearby, a woman and three children were huddled near a fireplace.

"No!" the woman screamed.  "You can't have them!"

"They are my children!" bellowed another voice, and Chris jerked and turned to see a nearly transparent figure of man, who looked haggard and in pain.  He was slowly drifting across the room toward the woman and the children, and Chris knew immediately that he was a ghost.

"Not anymore!" the woman shouted back.  "You are dead, husband!  Leave us alone!"

"I miss you," the ghost said, sadness making his face turn a silvery grey.  "Don't you want to be with me, Amada?"

"No!" she wailed, trying to force the children behind her.  "Not like this!  One day I will die as well and then we will be together."

The ghost drifted closer, eyes narrowing, face turning an angry shade of greenish grey.  "But I love you!"

"You are dead!" she spat at him.  "Go where the dead go and leave us!"

Those words sent the ghost into a rage, and he flew forward, wrapping his arms around the woman.  She screamed, but it was already too late.  Her life was drained from her in seconds, and her body slumped to the floor, dead.

"Mamá!" the little girl cried, reaching out for her mother.

"No, Catalina!" the older of the two boys said, grabbing the girl and pulling her back, putting himself between her and the ghost.  He reached for his wand, but the ghost fell upon him as well, and he screamed and writhed for a few seconds before he, too, fell to the floor dead.

Chris, who had been rooted to the spot by surprise and fear finally raced forward, yelling, "Stop it!"  But he passed right through the ghost as if he wasn't there.

The ghost floated closet to the last two children.  "Catalina," he called, "come to papa."

The little girl looked up at the ghost, tears on her face.  "What did you do to Mamá and Alejandro, papa?"

"Come to me, Catalina, please," the ghost cooed.

The little girl started forward, but the remaining boy grabbed her shoulder and stopped her.

"Raphael, let me go!" she said, jerking free.

And as soon as she was free, the ghost moved closer.

"Stay away from her, papa!" Raphael yelled, pulling his wand from his pocket and pointing it at the ghost.

"Raphael, I just want you both to come with me…"

"Stay away from her!"

But the ghost drifted closer to the girl, and when it was close enough, it reached out for her.

"Papa!" Catalina cried and reached for his hand.

"Revertetur ad mortuis!" Raphael yelled, pointing his wand at the ghost, but it was too late; Catalina's hand had slipped into the ghost's.  The little girl shrieked and her body jerked with a terrible spasm.  The ghost bellowed in rage, dropping the girl and starting toward Raphael.

The boy's eyes rounded in panic, but then hardened with determination.  He pointed his wand at the ghost a second time, saying, "Recesserimus Aeternum!"

The ghost let out a sound like nothing Chris had ever heard, and then was gone.  Catalina lay on the floor beside her mother, dead as well.

Chris didn't know what to do.  He took a step toward Raphael, who had dropped to his knees on the floor, his face in his hands as he sobbed…

But then he was back in Professor Martinez's office.  Chris was shaking and he looked up at the older man.  "Was that…?  Was that what happened?"

Raphael nodded once, his eyes still bright with the tears that refused to fall.

"That was your father?"

Raphael nodded once more.

"But—"

"None of us can cheat death for long, Chris.  No one.  It does not matter if you are good or evil.  Death cannot be cheated.  It can be held off, for a time, but there is always a price to be paid.  The dead are not meant to stay among the living.  The longer they dwell, caught between the worlds, the more corrupt they become."

"But—"

Raphael shook his head.  "Your family has lingered for over two years.  As they near three they will begin to change, and after three they will become Shades.  Once they are, they will try to kill you, and Vin, if he goes with you to see them.  It is not because they are evil, Chris, it is because no one can cheat death.  You have to let them move on before that happens.  If you do not, they become Shades that cannot move on, and when they are destroyed – and we will destroy them; we will have no choice – they will be gone forever."

Chris felt his whole body start to shake with a combination of anger and grief.  "No!" he cried.

"You know it is the right thing to do.  You know they want you to let them go."

"But I love them!" Chris wailed.

"I know you do," Raphael said, squatting down in front of the boy.  He took the blond's shoulders in his hands.  "I know you love them, Chris, and that is why you have to let them go.  They will go on to whatever comes next for them.  They will be dead, but they will still be.  And you will see them again."

Chris burst into tears.  In his heart, he knew what he had to do.  He knew that he was not meant to have his family in his life, but he didn't want to let them go, either.  He loved them.  But he knew they wanted him to release them.  He knew they loved him, and they didn't want to hurt him.  But it had hurt so bad to lose them the first time, and he wasn't sure he'd be able to lose them again.

"I don't know how!" Chris spat angrily.

"I know you don't," Raphael said, "but we can help you."

Chris threw himself at the older man, wrapping his arms around Raphael's neck and sobbing.

Raphael hugged him tightly and let the boy cry himself out.

Several minutes later, the two were sitting side by side on one of the many benches outside the Defense of the Dark Arts building, looking out across the campus.

"I don't want to," Chris said softly, then sniffled.

"I know."

"Will you show me how?"

"Yes, but we will need Professor Ko-Jay's help as well."

Chris didn't reply, and the two sat for several minutes before Raphael asked, "When?"

Chris glanced up at the man, then sighed and looked back across the landscape.  "Dad said before summer…  Sarah's birthday is in April…"

The older man nodded.  "That is a fitting time."

"It won't hurt them, right?"

"No," Raphael told him, "they will not feel any pain."

"Okay," Chris said, but his voice was nothing more than a tired, defeated chirp.