---
Vehicles of the ATF Universe
---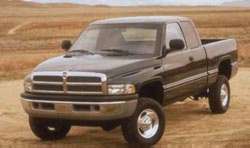 ---
Chris Larabee drives a 1998 Dodge Ram. An unsual feature of this truck, it has two doors on each side. The rear door opens opposite of the front like a clamshell. Chris' truck has a regular hitch on the back plus a fifth wheel hitch in the bed for his gooseneck trailer which holds six horses, seven if they all behave.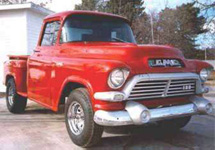 Buck Wilminton's "Lady" is a 1957 GMC, shortbed. It has been totally refurbished, a process that took him over three years. He calls her "Lady" as in "The Lady in Red" much to JD's disgust, since trucks are not femine. Buck claims women go for a guy who names his truck.
Read Lady's story here: Where Did He Get That Truck?
Go see the vehicle of your favorite guy.
:: Chris/Buck :: Nathan/Ezra :: JD/Josiah :: Vin :: ATF Bible ::
This page maintained by: GinaD