What we are looking for are the flat, engraved keychains that look like a state license plate (see photo). They can be found at most airport gift shops, many Wal-Marts, and several other places that sell tourist souvenirs. They measure approx. 1-1/8 x 2-1/4 inches. If possible, send one with the name "JUDY" engraved on it.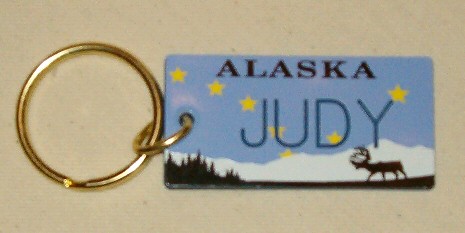 Our goal is to get her all 50 states by her birthday, April 28th. This is a surprise for her, so please, no one mention it to her.
Please send them to me (Nancy Warlocke) at 53 Walton Street, Portland ME 04103. If you want to include a note or card, I will see that she gets it (I am concerned about giving out her home address without her permission, so that is why I have decided to do it this way)
These are the states/places that we already have promised. The ones in red have actually been sent (I'm not real certain about Hawaii, so if you can do that one, I'll be happy to have a back-up plan!). Let me know if you can get one from a state not on the list (even if it's a state you don't live in - maybe you have a friend or relative who can send you one). Please don't promise to send one until you know for sure you can get it, though!
Oh, and if you don't live in the US, but can get one from the country, city or province where you live, that would be great!!
Alaska (Tess G.)
Arizona
California
Colorado
Hawaii
Kansas
Maine (Nancy W.)
Massachussetts
Missouri
New Hampshire
New Jersey
New Mexico
Nevada
Ohio
Oregon
Pennsylvania
Washington
Wyoming
Madrid, Spain