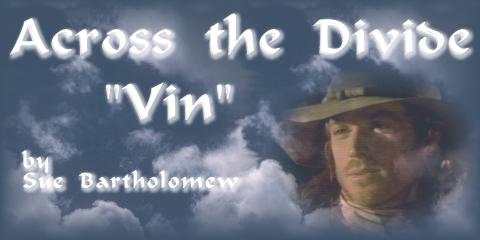 This segment should be read after:
DISCLAIMER: The characters in this fic are owned by CBS, Trilogy and MGM. I'm just borrowing them to play with for a while. I promise to put them back when I'm through :)
RATINGS: G
WARNINGS: None, except for a good deal of corniness.
I would just like to reiterate that I am not trying to advocate any particular religion or belief with these after-death fics, I'm just trying to relieve the stress of writing my graduate thesis. So far it's working!
---
Vin was dreaming.

It was a frightening, fragmented vision, all the more terrifying because he knew it had happened, although how long ago he could no longer tell. How long had he been in this strange, half-awake sleep? A week? A month? Years? He no longer knew.

But still, he knew what he was seeing was a scene from the past, the last thing he really remembered.

Purgatorio was burning, its evil cleansed in a roaring inferno as Chris, JD, Josiah, Nathan and himself raced to escape. They had found Fowler's men, had almost apprehended them, ending Chris's long years of agonized searching. But the fight had been fierce; they weren't going to go easily. A fire had started during the fight; now the entire city was ablaze, becoming the hell on earth it had always been in truth.

And they were trapped there.

Even now, as they fled, gunfire flew at them from every side. The narrow streets were thick with fleeing fugitives, and the gunmen seemed to be everywhere. Vin knew they had only one chance to get out, and what he had to do to get them there.

Take 'em out, cowboy, he'd said to Chris as he dismounted Sire. I'll cover ya and meet ya outside.

Vin! Chris had yelled; Vin could only pause, one last clasp of arms with Chris, a nod to the others. Then Vin was scurrying up to the rooftops of Purgatorio, rifle ready to cover his friends' escape.

The dream played the scene again and again, a nightmare of writhing smoke and dancing flame. Vin running across the rooftops as his friends rode below, firing his gun at those who tried to stop them. Run, stop, fire. Run, stop, fire. Never mind the heat and smoke. Run, stop, fire. They're almost free.

The gate loomed ahead. But Vin could see that the only escape had been sealed and locked, and Fowler's men waiting to kill them all. There was no way to turn back, only room to make a stand.

It couldn't end like this, Vin had vowed. He stopped, aimed carefully, praying, if I ever make only one more shot in my life...

Fired the gun. Saw the lock explode into fragments. Chris barreling through the crowd, the others behind him, ducking bullets as they crashed through the gate and into the open desert beyond.

Free.

Vin saw it, saw them ride until they were safe, saw them turn and look for him. He turned and ran, then felt the burning roof give way, and was swallowed up by the heat and smoke and bottomless darkness.

The darkness would drift and ebb, then the dream would begin again.

Sometimes he would drift to the surface of the darkness, just for a moment, long enough to feel that wherever he was, he was still alive. He was lying on a mat-in an Indian house somewhere, it seemed. He could hear soft words but lacked the strength to decipher them, could feel a dull pain all over his body which felt both strangely distant and agonizingly near.

He had so many questions he wanted to ask. Did they get away? Where are they? It seems it's been so long, maybe they're back in Four Corners. Do they know where I am?

But before he could summon even a fraction of the strength needed to answer these questions, the darkness would return, and he would be dreaming again.

Mingled with the visions and the brief spells of consciousness were other, more puzzling episodes. Faces danced before him, whispering words of comfort and encouragement. His mother knelt beside him, young and beautiful, gently telling him to be strong, it would all be over soon. He wanted to hold on to her, to touch her to see if it was really her, but she would simply smile and disappear.

Other forms floated before him in the void. Ezra and Buck were standing over him, their eyes full of concern for him. But they were both dead, Vin knew they were, it had to be another dream, or some sort of visitation from the spirit world. But instead of being frightened, Vin felt amazingly comforted, as if their presence was not unusual at all. Then they too would drift away...

More puzzling still, he began having the oddest dreams that Chris was with him. But that was impossible; Chris was somewhere else, hopefully fighting Fowler. And yet, there was no mistaking the sound of Chris's voice in his ear, speaking words of encouragement. Vin was puzzled, but lacked the strength to try and figure it out; he simply accepted the odd calm that the dream of Chris's presence afforded him, and continued to drift.

The darkness grew deeper and longer, the periods of light fewer. He could tell the pain was getting worse, although he didn't feel it as sharply as he thought he should. Something was happening, he could feel himself being drawn somewhere. No, not yet, he thought in his dreaming state, I have to know if they're all right, if they won their fight. If I could just wake up and ask someone, just for a minute, then I could go. Just one minute.

Everything seemed to rush away into darkness, and the thoughts dissipated into nothingness. Then, light.

Vin opened his eyes with a start, the first time they'd been open since his fall at Purgatorio. For a moment he stared in amazement at the brilliant blue sky above his head, and felt the warm sun beating down on him.

Another dream, he thought as he quickly took stock of his surroundings; he was lying in a patch of very tall green grass, and he could see that he was in the clearing of a forest in the full bloom of summer. He took a deep breath; how fresh and clean the air smelled. He was in the mountains, he knew that immediately, and a smile came to his face; it was about time he had a dream he enjoyed.

He sat up with no effort at all, the pain gone, and looked around more carefully. He was in a sunlit clearing at the edge of a mountain forest; looking across the field, he could see a small log cabin, smoke curling from its chimney, and beyond that the deep woods swathed in enticing shades of green and black, the golden sunshine slicing across the tall trunks.

Vin froze as his blue eyes took in the scene; it couldn't be, that place was gone. But then, this was a dream, so why couldn't he be seeing the cabin his parents had built in the mountains, the one he grew up in before they moved further on? It was such a perfect vision, he'd remembered it only as a vague, childish memory, but now that he saw it again he knew this was it, where he'd spent his happiest days still innocent of what life held in store. That childish joy seemed to course through him again; odd for a dream, he thought, but what the hell, might as well enjoy it. The oblivion would be coming soon enough.

He stood and rubbed his chest, marveling at how healthy he felt. He was wearing his favorite blue shirt, which he knew had been scorched by the fire; but now it looked good as new. He looked around him, amazed that he seemed to be able to hear every sound around him, the entire chorus of nature swirling in the clear summer air.

He frowned, puzzled; another dream, it had to be, but it felt so real. More real than anything he had ever experienced, as odd as that sounded. Something else felt different too, but he couldn't quite put his finger on what it was.

He looked around once more, then shrugged. Might as well enjoy this while it lasted, the darkness and pain would doubtless be coming back. Vin felt an odd, urgent excitement, an intense desire to experience this dream as fully as possible before it disappeared. Which it would, of course, so he had a feeling he should probably do something.

He looked at the cabin, a sad longing filling his heart. Funny, he could now remember every day he ever spent here with his parents before they moved away; this had been a wonderful little place, the perfect spot for a curious growing boy. He took a few steps towards it, almost hesitantly, as if he thought it might be made of smoke and would dissipate if he disturbed it. His blue eyes flew over the small home, drinking in every long-forgotten detail. This had been the only place he'd ever really felt safe; it had not been long after their move to the other cabin that his mother had died, and life had become frighteningly unstable. Now, being here again, he felt oddly safe once again. He smiled at the irony; he felt safe, yet he was dying. Hard to get more opposite than that.

Slowly Vin walked across the clearing towards the small structure, keenly observing every aspect of the cabin and its surroundings. He could remember everything that had happened here, the time his mother had caught him playing naked in the mud during a rainstorm next to that treestump, the old broken toy he'd buried behind that rock-was it still there?-or the first animal he'd ever skinned, with his father's help, there at the side of the cabin.

This is one hell of a dream, he mused with a quiet smile, thoroughly enjoying the peace he felt here. It settled over his weary soul like a balm, and he dreaded losing this feeling when he woke up, or died.

Suddenly he stopped about ten feet from the cabin, and something told him to look at the door, an instinct born of years on the run. Someone was watching him. He looked quickly, unsure of what he would see.

A young woman stood in the doorway, a wide smile on her suntanned face. She was small, and looked even younger than JD, with her bright blue eyes and cascades of curled brown hair falling down her back. She was clasping her hands tightly, obviously in the throes of immense joy and excitement, almost too overwhelmed to move.

Finally she took a deep breath and said simply, "Hello, Vin."

Vin didn't move; he stood staring at the woman, overcome by astonishment. She stepped towards him, a little hesitantly, but with perfect ease. He remained still, almost afraid to move and cause the end to this remarkable vision. But it didn't end. When she was close enough she reached out and touched his arm, then without a word slowly drew her arms around him and embraced him tightly, tears falling from her eyes.

For a half-moment Vin was too stunned to react; none of this could possibly be happening. But it was, or sure felt like it was, and finally he could no longer restrain himself. He wrapped the small woman in his arms, drawing her into a tight embrace, letting his own tears fall as he buried his face in her hair, speaking only to utter the choked word, "Ma."

Vin had often dreamed of his mother, but they were always fragmentary and often frightening images, blurry half-discernible shadows in which his mother was dying horribly and he was reliving the agony of losing her. Or else they would be recollections of old memories, distorted by time. Never anything like this; it was clear and solid, as founded in reality as anything Vin could remember. He could feel her in his arms, feel her arms around her as she held her son again. This couldn't be a dream, but it had to be. She had died so long ago. Maybe this was a spirit-vision, like the Indians had told him about.

Finally he pulled back to look at her, still amazed at how true it all seemed.

"Ma," he said softly, reaching up to touch her face, "It-you look so-"

She laughed gently and took his hand. "I hope I didn't startle you, son. After all, it's been a long time."

He nodded; her voice sounded so different than what he remembered, light and full of life, with the same drawl he carried. He couldn't quite trust himself to speak yet.

"Oh, look at you," she said proudly, stepping back and holding him at arm's length. "Grown up so handsome and tall, and every inch a Tanner. You must have broken quite a few hearts."

He grinned, blushing a bit. She stepped closer to him again, taking his arm as a serious expression came over her young face.

"I was so sorry to leave you, Vin," she said softly, "but you did right well with your life. You never forgot who you were, just like I asked. You don't know what it meant to me, to know you carried those words in your heart."

That settled it; this had to be a death-vision of some kind. It was fascinating in a way, to actually be experiencing something he'd only heard about. If only Josiah could see this...

He smiled sadly at his mother's proud expression. "It wasn't always a good life, Ma. There were some rough times, an' I've done some pretty hard things I ain't too proud of."

She sighed, her eyes full of forgiveness. "I know, Vin. Men can't be angels, an' the world you had to go through was a hard one. But you made the right choices at the end, and fought for the right cause when it would have been easier to turn your back and deal with your own problems."

Vin fidgeted a bit. "Aw, don't make me out to be some kind of danged hero, Ma. Heroes ain't men like me."

She laughed. "You'd be so surprised, son. Embarrassed, maybe, but surprised too. I know many folks who think you are a hero, and I won't hear you say a word against their judgment."

She gave him a determined smile, and he returned it in spite of himself; this was starting to feel comfortable. He looked around again.

"So-what is this, a vision or somethin'?"

Ma Tanner smiled and stooped down, picking up a handful of dirt and letting it run into his palm.

"Does that feel like a vision to you?" she said with a gentle smile.

He stared at his hand for a moment; the dirt felt real, he could feel every gritty grain of sand and rock.

"Well, no, it don't," he shrugged with a small laugh, "but then I ain't never been dyin' before, so I just thought I'd ask so's I'd know what I'm up against."

She smiled and took his arm, leading him away from the cabin towards the woods and past the small, bubbling creek which ran past the cabin.

"Son, your days of bein' 'up against' anythin' are over. As for the dyin' part, well-you're sorta past that, too."

He stopped, and so did she. That thought hadn't occurred to him, and he mulled it over in surprise.

He turned to her. "Well-if this ain't a dyin' vision, then what is it?"

She smiled. "At the risk of soundin' corny, your new home. And personally, son, I think you'll like it here."

Several realizations struck Vin at once. One was that what his mother was telling him was true; he was dead-well, not dead, but not alive either, at least alive in the way the others he'd left were. Another thought was that this beautiful vision around him was real just as he thought it was, and would not dissolve into a nightmare of darkness and pain again; all of this beauty was his forever, although it was still beyond him how he had earned it.

He looked around him with wide blue eyes, absorbing the thought, then at his mother, who was beaming with joy as tears once more flowed from her eyes. He laughed once, a short laugh of astonishment and joy, then took her up again in another tight embrace, this one of celebration. She laughed as well, pleased at her son's happiness, as she returned the embrace.

And then, overwhelming all else, came a sudden concern: Chris still needed him. And he was gone.

He released his mother and stepped back, his expression urgent. "Ma, I-is there any way I can...go back? I got friends who need my help."

Her look was sympathetic as she lifted a hand and stroked her son's cheek. "I know you want to help your friends, Vin, and there are ways for you to do so. But there are still some things you need to learn."

A puzzled look crossed Vin's face and he was about to ask her what she meant when he saw her turn and look into the forest, clearly meaning for him to follow her gaze. He did, and was once more surprised.

Two figures were riding through the golden sunlight and deep shadow towards them, leading a third, riderless horse. Vin took a step towards them as they neared, staring.

On one horse sat the relaxed, familiar figure of Ezra Standish, who was regarding Vin with a welcoming smile. Vin was amazed; Ezra looked so young and healthy, all traces of consumption erased. He remembered the gambler bleeding to death in his arms, having given his life to warn them all of the imminent attack of Fowler's men. He had been the first of them to fall, and the resulting grief had only strengthened their resolve to see their journey through so that he would not have died in vain. Vin could clearly recall his own sadness at Ezra's loss, and his admiration of the gambler's courage in committing so selfless an act. And now here Ezra was, alive again, his green eyes bright with barely restrained elation.

Next to Ezra rode Buck Wilmington, his handsome face openly overjoyed at Vin's appearance. Vin had not been there when Buck had died, but he knew well how devastated they had all been at his loss. Chris had barely been able to forgive himself, thinking that Buck had been acting on his guilt for what had happened to Chris's own family.

And JD had been inconsolable for days, his mood veering between crushing grief and rage towards the men who had killed him. Had it not been for Vin and Chris's restraining hands, JD would have ridden off alone to take down Fowler, and probably gotten himself killed. Nathan and Josiah had done all they could to deal with their own grief while trying to keep their group together.

If only they could see Buck now, he thought, riding so tall and looking fit to ride a million miles.

"Well, Mr. Tanner," drawled a long-missed voice, "you seem to have lost your sense of direction. I distinctly remember you telling me that you would see me in Hell, and I believe you're in the wrong locality."

Vin smiled, hitched his hands onto his belt and strode forward towards his comrades, feeling downright happy. "An' just what makes you think it's me that's in the wrong place, Ezra?"

"Well, for one thing," the gambler replied with an even wider grin, "I can hardly believe they'd admit anyone wearing those atrocious trousers. However," he continued, his voice becoming more serious, "I must say, I have never been so pleased at someone else's lack of navigational skills."

Vin chuckled, nodded, then looked at Buck. "You're lookin' pretty perky there, Bucklin."

Buck grinned widely, still overjoyed. "Well, I was goin' for dashin', but perky suits me just fine. Feel up to a ride?" He held out the reins to the extra horse.

Vin looked over at his mother.

"Oh, you boys go on," she said with a smile. "I know you've got lots to talk about."

There was something in the way she said this that gave Vin pause, but he shook it off as he mounted the beautiful horse and rode off with Ezra and Buck into the woods.

"Bet your head's spinnin' a mile a minute, Vin," Buck said as they wound deeper into the forest. Vin chuckled and shook his head.

"You got that right, Buck. Is this real?"

"Indeed it is," Ezra assured him. "Although I admit it's very hard to believe."

Vin thought a minute. "No, it ain't, Ezra, an' that's the funny thing. This seems a lot more natural than what went on before, if you know what i mean."

"I know what you're sayin' Vin," Buck replied as they rode through a shallow, sparkling mountain creek. "An' you're right."

Vin took a deep breath as they reached the opposite bank. "Look, before I go crazy, I gotta ask-Chris an' the others-did they make it out of Purgatorio?"

"Oh, they made it," Buck said quietly, "thanks to you, Vin. You saved their lives."

"I ain't no hero!" Vin insisted. "Just did what was necessary, that's all."

"At considerable risk to yourself," Ezra pointed out.

"Well, you fellers did the same," Vin observed.

"Guess we're all heroes, then, an' there ain't a blamed thing we can do about it," Buck stated. "So mebbe we'll get statues, who knows? I got a feelin' that ain't what's concernin' you right now, Vin."

"No, it ain't," Vin said firmly. "What happened after..." His voice trailed off as he realized he didn't know exactly what had happened to him.

Buck drew a deep breath. "Vin, you been sick a long time. That fall banged you up pretty badly. Fact is, anything that needed takin' care of has already been done."

Vin looked up. "You mean, Chris and the others have already finished the fight?"

Buck nodded. "Yep."

They rode in silence for a few moments.

"Well," Vin finally said impatiently, "what happened?"

"Chris and JD met Fowler and his associates at a deserted Mexican village," Ezra explained as they rode again into the woods. "The battle was quite heated. Fowler and his men all went down, and I think you'll be pleased to know that you will be meeting none of them here."

Vin sighed with relief. "So Chris got his justice." Then he looked up. "Did they..."

Buck swallowed. "JD got hurt real bad, Vin. He's still tryin' to pull through. We can go to 'im, we'll show you how to do all that stuff later."

Vin heard what wasn't said. "An' Chris?"

They had come to the edge of the woods, and Buck nodded to the scene beyond. Vin looked to see they were at the edge of a small farm. He recognized it instantly, even though he had never seen it before; it was Chris's farm, the one he'd heard Chris and Buck talk about. That place had been burned down when the gunslinger's family was killed; Buck and Nathan had told him about their visit to the charred ruins the first time they went hunting for Fowler. But the farm before him was vibrant with life, horses running in the corral, smoke rising from the chimney. And riding towards them, a slender figure on a black horse.

"We'll see ya back later, Vin," said Buck's quiet voice, and he and Ezra were gone.

Vin sat silently, waiting, trying to take it all in. Chris had won his justice, but had not survived; yet he was here, riding towards Vin as alive as he had ever been, the black gone now, replaced by lighter colors. For a bizarre moment it was as if they were both still alive, and Vin was simply meeting Chris after recovering from his fall.

But as Chris neared, Vin could see how wrong that idea was. There was no bitter, angry gleam in those green eyes now; it had been replaced by a very quiet joy. Vin was surprised to find that, mingled with his sadness at Chris's early death, he felt a sense of brotherly joy at the peace which his friend had obviously found. No man Vin knew deserved it more.

He smiled as Chris rode up. "Hey, cowboy. Mind if I join you?"

Chris's smiled grew a little wider. "Been waitin' a long time to hear that question."

With that Chris extended his hand. Vin reached out and they clasped arms tightly, regarding each other with warm eyes shining with unashamed tears. There was no need for either of them to speak; the profound emotion written plainly on their faces said more than the most eloquent words ever could.

After a few moments they parted, and Chris picked up his reins with a small smile.

"Feel like a ride to clear your head?" he asked, knowing the answer. Vin laughed a little and shook his head.

"Gonna have to be a long ride, pard," he said seriously.

"We got time," was the amused reply, and they set out riding away from the farm and into the mountains.

They said nothing for a long time, simply riding quietly side by side, Vin taking it all in with growing amazement. Amazement at the boundless beauty with which they were surrounded, at the brilliant colors and fragrant scents, so much like before and yet so different.

Vin had always found a deep sense of peace in the wilderness; when life became too dark or cruel, and people too brutal, he could always escape to the wilds and be able to forget and hide himself. But now Vin felt as if he had found the ultimate sanctuary, a place where he would always feel safe and at peace. Then he realized that it was that feeling which was so new-the feeling that he was finally, everlastingly safe.

They rode through some sparse forest, down a mountain path and up towards the crest of the hill. As they topped it Vin was astounded to see that the sun was setting, and the sky was ablaze with a multitude of vibrant colors dancing off of the clouds. Before them stretched the foothills, their treetops touched with the sunset's fire, and a river sparkling in the waning light.

"Whew!" he breathed, impressed. Chris looked at him and smiled.

"Quite a bit to take in, isn't it?"

"I'll say," was the amazed reply; Vin was still trying to get used to the fact that all this was real and not just a dream. But Vin was too practical of a man to not know dream from reality. He looked at Chris.

"I'm sorry I wasn't there for ya at the end, Chris. Things mighta turned out different."

Chris eyed him seriously and straightened in his saddle. "Things went like they was supposed to, Vin. You saved our lives at Purgatorio, I'd hardly call that a mistake."

Vin nodded, his eyes still on the scene before them. "Hadn't reckoned on not bein' able to follow you, though. You needed every one of us."

The other man followed his gaze. "I never thought you weren't with us, Vin. I think you were there when we finally met Fowler, and when Josiah and Nathan were fightin' to keep JD alive. Just the fact we lived to that day was your doin'."

Vin ducked his head, grateful for the forgiveness in Chris' voice.

The sun had almost set, and the two men watched it slip behind the mountains in silence. Then Vin slowly shook his head.

"How did we get here, Chris?" he said softly. "I mean, my life wasn't exactly saintly."

"None of us were saints, Vin," was Chris's quiet reply. "I know I done plenty that I got cause to regret. But it looks like we managed to do some good too, an' I guess that was what got counted."

Vin nodded thoughtfully, then turned a slight smile to Chris. "Sure glad t'see y'here, pard. Woulda been pretty dull otherwise."

Chris laughed silently, his smile shining in the dusky light. He appeared slightly embarrassed, then looked at his friend with a grin.

"Well, y'know, I told Buck an' Ezra that if you didn't show up here, we'd go shoot it out with the devil an' drag your sorry ass to where you belonged."

Vin chuckled. "Wouldn't be the first time we fought Hell for each other."

"Nope," Chris agreed, looking away. "An' we ain't done fightin' it, either."

Vin shifted in his saddle, aware of what Chris meant. He cleared his throat anxiously. "Buck-said JD was hurt bad."

The other man nodded, his expression dark now. "You should've seen him at the wall, Vin, when it was just the two of us left. Never knew anyone his age who had more grit. Had three bullets in 'im an' still wouldn't go down til he knew we'd won." He took a deep breath, then looked at Vin. "He's got a devil's fight of his own before 'im, Vin."

Vin nodded slowly, somehow knowing exactly what Chris was talking about, and the struggle JD would face in his recovery. "Well, Chris, if that boy's learned anythin' from us, I hope it's how t'beat the devil."

"Yep." Chris straightened and cast his eyes at the sky, now a deep purple-blue and bright with stars. "I think between Casey an' the baby, an' Josiah an' Nathan, an' us, we can get JD back on his feet. For now-" He dropped his eyes and looked at Vin, a quietly joyful look on his face, "I was wonderin' if you'd like to meet my wife an' son."

A slow smile spread over Vin's face. "Only if you'll come an' meet my Ma."

"Oh, I met her," Chris said lightly. "She an' Sarah have been cookin' somethin' up all day."

"That right?" Vin laughed as he picked up his reins. "Best go see what it is, then."

"I'm almost afraid to," Chris confessed with mock fright.

Vin smiled, and they turned their horses and rode back to the farm in the gathering twilight.

The fireflies blinked and twinkled as they danced across the lawn in front of the Larabees' ranch house. The fragrant grass glowed golden in the lamplight which flowed from the porch; the windows of the structure were all ablaze with light as well. In the light moved several people, so many that Vin was sure he couldn't remember them all. But as he lounged with Chris, Buck and Ezra on the lawn, he was amazed to find that he could still pick out every person he'd met that night, large as the number was.

There was Adam, of course, laughing as he ran and played with his mother. Vin was still moved by how pretty Sarah was, and how lively Adam was, and how happy Chris was now that he was near them again. Something had healed in Chris; the scars from what he had endured were still there, but the pain was gone, and Vin felt a deep gratitude for his friend's newfound peace. But the fighter was still there too, ready to battle whatever foes they or their loved ones faced.

Sarah was being attentive but at the same time talking to Amanda, JD's young mother, and Sophie, Ezra's favorite cousin and best friend. On the porch, Vin could see his own mother deep in conversation with Obediah and Jennie Jackson, Nathan's parents. it was astounding to see Obediah again, now healthy and young, free of the torture of consumption.

Members of each man's family were there, and Vin knew every one of them. They certainly knew him, too, and had embarrassed the young tracker with their congratulations on his bravery and skill in saving their relatives' lives. Vin was thankful it had all finally subsided; the party was becoming quiet now, people gathering and talking in small groups, enjoying the night and the company. Now Vin and the others had found their own quiet spot, away from all the attention but close enough to still be a part of the larger whole.

Vin lounged on his side, hat off, his hands fiddling with a blade of pulled-up grass. Chris sat nearby, his back against a tree, watching his wife and son as he dangled his hat from one hand. Buck stood leaning against the same tree, hands in his pockets. Finally, Ezra reclined next to Buck, one leg stretched out, the other bent, leaning on his elbow as he rested one hand on his raised knee.

They were all listening with grim attention to the quiet, steady voice of Chris as he related to Vin what had happened in the days after Vin's fall amid the burning ruins of Purgatorio. Vin had heard bits of what had transpired; now he wanted to know it all.

"So now," Chris was saying, his expression somber, "JD an' Casey are gettin' ready to go to San Francisco. Nathan thinks it might help him get his spirit back."

Vin sighed and shook his head; it had been a long story, one difficult for him to hear. It frustrated him that he had been lying helpless somewhere when all this was going on.

"Now don't go doin' that to yourself, Vin," Buck admonished him seriously, seeing Vin's expression. "JD's got his journey to make, just like you had yours, an' it ain't no use blamin' yourself for things y'can't change."

Vin shifted a bit. "I know that, Buck," he admitted hesitantly, "I just...hate t'think of the kid like that, all busted up. I seen men get shot like that-they weren't never the same again."

"Ah, but I doubt they had the skills of our Mr. Jackson at their disposal," Ezra pointed out with a small smile.

"Or Josiah's grit," Buck added.

"An' I don't think Casey's gonna let him just lay down an' die either," Chris continued, giving Vin an encouraging look. "I wouldn't be too worried about JD, Vin. He's got a lot of people fighting for him. He'll survive."

"An' if he starts givin' up," Buck declared, "we'll just have to go kick his behind. Um, spiritually speakin', o' course." He smiled.

Vin chuckled, his blue eyes shining. He looked down at the piece of grass he'd been twisting and shook his head again. Then he lifted his eyes and studied the well-lit ranch house, the people talking and laughing together on the lawn, faintly lit from the golden glow from inside.

"Not quite what you expected, I bet," Chris said.

Vin gave an amused grunt and looked at his friend. "No, it ain't. But...I'm sure glad it's what I got."

He found his mother in the crowd, sat looking at her silently for a moment. He felt his face flush with emotion.

"Sure never thought I'd see my ma ever again," he finally said quietly. "Seems like a miracle."

The men sat without speaking for a few moments, each studying the crowd themselves, lost in their own reflections.

"I know what you mean," Chris said at length. "Been wonderin' how all this happened, myself.

"Reckon we musta done somethin' right," Buck suggested quietly.

"That would certainly be my assessment," Ezra offered in an equally subdued tone. "In my case it was definitely not due to a life of denial and philanthropy."

Vin looked at the gambler with friendly amusement. "Or a subtle taste in clothing, neither."

Ezra drew himself up and adjusted the lapels of his red jacket, smiling slightly as he proudly lifted his head. "At least I did not have to kill my apparel before I could wear it, Mr. Tanner."

Buck laughed. "Hey, you better be nice to Ezra now, Vin, or he won't give ya the present he brung ya."

"Present?" Vin looked at Ezra with surprise and sat up. "You got me a present, Ezra?"

The gambler appeared totally flustered and gave Buck a look of severe annoyance. "Really, Mr. Wilmington, that was decidedly uncouth."

"Aw c'mon," Buck chided. "You been bustin' t'give it to 'im."

"'Sides, " Chris added with a grin, "I never known Buck to be 'couth' in his whole life."

"Thanks a whole bunch, Chris," Buck muttered with mock anger.

Vin was still looking expectantly at Ezra, who proceeded to shrug.

"Well," he said nervously, fishing in the inside pocket of his jacket, "I assure you it's, ah, nothing really, merely a token of appreciation for your,er, fellowship, despite the times when we have not exactly, um, seen eye to eye on things."

Vin smiled. "Well, thanks, Ezra, that's mighty nice of ya."

"Yes," Ezra said quickly, still embarrassed. He finally drew something from his pocket and handed it to Vin. "I hope this makes up for any misunderstandings which may have occurred between us."

Vin looked at what Ezra held, and froze, puzzled.

It was a book, somewhat thick and dark blue, with gold letters on the binding. The title, which Vin couldn't see from the distance, looked long. Vin paused, unsure of what to make of it; Ezra knew darn well that Vin couldn't read, at least nothing too difficult. It had been difficult to admit this to his friends, but they had accepted it and encouraged him while he underwent reading and writing lessons with Mary. Those lessons had helped him a lot, but he had never learned to read anything too complicated-keeping the peace had gotten in the way too often to get much learning done. And the book Ezra was handing him looked complicated.

Vin looked up at Ezra, whose expression told him that he fully believed the book to be within Vin's abilities. Vin took a deep breath; he'd just accept it and not let on.

"Thanks, Ezra," he smiled, taking the book in his hand; it was heavy, the leather rough against his skin. How Vin wanted to read it; ever since learning the basics he'd longed to learn more so that he could read everything he could find, especially poetry. But there had been no time.

"You're quite welcome, my friend," Ezra smiled, relaxed again. "I believe you will find it-most surprising."

Vin gave him a confused look and glanced at the spine, expecting to be confronted by a long, bewildering jumble of letters. Instead he found, to his complete amazement, that he could decipher the words without the slightest bit of difficulty. He felt a shock go through him as he easily read:

"Treasury of European and American Poetry."

Amazed and unable to stop himself, Vin looked up at Ezra, who had the most incredible smile on his face. Looking back at Chris and Buck, he saw that they were smiling too. Vin realized that they had all known he would now be able to read with ease, and were sharing his joy at the discovery.

Eager and unbelieving, Vin opened the book to the middle, and found that it was true; he could read with no difficulty at all, as easily as breathing. His eyes devoured the words before him, which all made perfect sense, no matter how long or difficult they were. He flipped through several pages, catching a sentence here, a stanza there; every poem seemed to sear his soul with its beauty, even in the few snatches he was now reading. He sat consumed by the joy and wonder of what he was seeing before him, until he finally heard Buck say, "I think he likes it, Ezra."

Vin looked up; now it was his turn to be embarrassed. He took a deep breath. "Sorry, guess I got lost for a minute. It's just-well, y'know I ain't never really been able to read before. Learned some from Mary, but never did get to the harder stuff."

"Way I saw it, Vin," Buck said, " that was nothin' t'be ashamed of. Y'didn't need no fancy schoolin' t'know what was the right thing t'do, an' to do it."

Vin smiled at the compliment, then looked back at Ezra.

"You more'n made your apology by savin' my life, an' everyone's, by givin' up your own back at the canyon when Fowler an' his men were gonna jump us." He closed the book and lifted it a little in his hand. "But I really appreciate this. Thank you."

For a moment Ezra seemed speechless at the simple gratitude in Vin's voice. He shifted a bit. "You're quite welcome," he finally coughed, "and you should not discount your own bravery, my friend. As we discussed before, there are more than a few lives which are indebted to your actions as well."

Vin smiled and looked back at Chris and Buck. "Well, I wasn't about to let 'em trap you all in Purgatorio. Just wish I could've helped you whip 'em for good."

"Oh, don't you worry, Vin," Buck said with a slight grin, "if you're lookin' t'whip bad folks, you'll sure get your chance. The fight's still goin' on."

Chris leaned forward, his eyes fixed on Vin. "Buck's right, Vin. But I don't figure we got to worry about that til-oh, at least tomorrow."

"Reckon I best read this purty fast, then," Vin said with a smile, indicating his book.

"And should you find that reading enjoyable," Ezra said, "I have plenty of similar volumes in my collection, which I will gladly lend at absolutely no charge."

"Now that's what I call a miracle," Chris observed, watching the scene with a quiet smile. Ezra gave him a look of friendly rebuke and rose.

"I would suggest, sirs, that we soon look to retiring," he said. "If we are to assist JD in his recovery, I fear we shall all need to be as well-prepared as possible."

"Nathan an' Josiah ain't gonna have it easy neither," Buck observed, straightening. "They gotta look after the boy, an' put their own lives back together now that it's all..." He paused, not wanting to say what he almost said. "Now that things've changed."

They stood together in silence for a moment, considering the implications of Buck's words. Finally Vin shook his head.

"I ain't ready to say it's over, Buck," he said firmly, looking his friend in the eye. "Just cause we ain't ridin' together no more don't mean what we rode for is gone too. I got t'think that JD, an' Josiah an' Nathan, won't let what we fought for be forgotten. That they'll be sure t'tell their kids about what they–" Vin looked at all of his friends–"what we all did."

Buck nodded. "Sure hope so, Vin. An' I also hope-" here he swallowed-"that that kid remembers t'clean up some of the stuff I told 'im."

"I believe Josiah will make certain of that," was Ezra's amused response, and he and Buck nodded, turned and walked back to the crowd.

Vin and Chris stood, Vin looking around at the glowing scene before them once again.

"Head still spinnin'?" Chris said lightly. Vin grunted.

"I think it's slowin' some," he admitted. They began to walk slowly back towards the party.

"Good," Chris said firmly, putting his hat back on. "We still got work to do, Vin, an' I know you're up to it."

Vin looked into the crowd, and met the eyes of his mother; he smiled at her, feeling a rush of emotion swell through him once again, the unbridled joy of seeing her, alive and well again. Of seeing them all, Chris and Buck and Ezra, and the people they loved, beneath the brilliant starry sky, together and at peace, never to be parted again. And his own indescribable feelings, at being finally and forever free. Right now, he felt strong enough to face anything, if it meant protecting the ones they loved and ensuring that they, too, might one day join them here.

He turned to Chris, his blue eyes full of determination.

"You bet I'm up to it, Chris," he said firmly. "Bring that devil on."

THE END

Comments to: sueb1863@earthlink.net
---