North Pass Ranch
Magnificent Seven Alternate Universe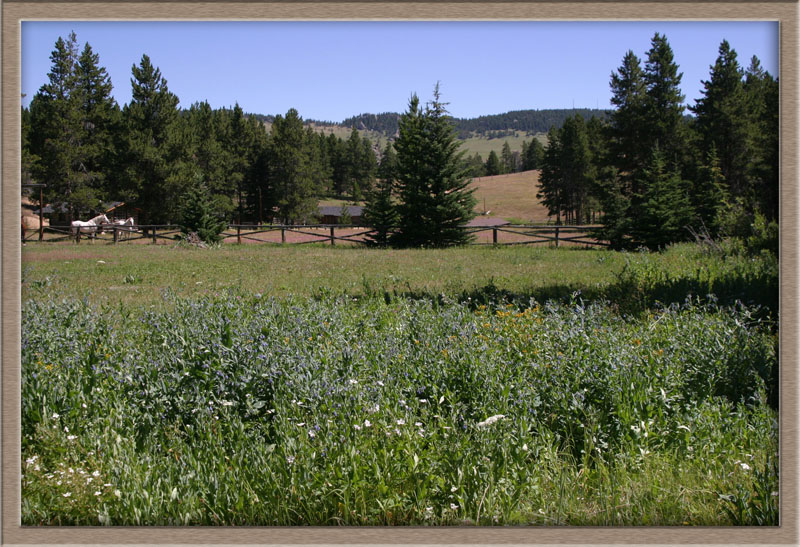 Background:
A flood damages a city and suburbs when an old dam ruptures after weeks of rain. Many lives are lost, including Rachel Dunne, mother of JD Dunne, age 5; and guardian of Vin Tanner, age 7; and Ezra Standish, age 8 (almost 9). While staying in an evacuation shelter the boys meet Chris Larabee, Sheriff of Four Corners; Buck Wilmington, Deputy; Josiah Sanchez, Deputy/Counselor; and Nathan Jackson, Deputy/Medic. Josiah had the boys moved from the civic center to the smaller elementary school shelter where they would be easier to keep an eye on when he found them being bullied by some teenagers.
Chris gets approval to take the boys to his ranch until their families can be found.
Location
North Pass Ranch was named for the nearby town. The Larabees inherited the ranch from Sarah (Connelly) Larabee's maternal grandfather. Buck, a long time friend came along and helped them convert the bunk house into a guest house. The "Bunk House" name stuck and it became Buck's home. When the boys come to stay at the ranch, Buck moves into the guest room in the ranch house to help Chris.
North Pass Ranch is near the small town of Four Corners. The Ranch was named for the town, which was originally Paso del Norte. Around 1900 the town name was Anglicized to North Pass. In 1930 the town name changed to Four Corners when the boundaries of the surrounding counties were changed and met near the town. Four Corners is about two hours away from the big city. (The city is unnamed).
Four Corners has a two screen movie theater open on weekends, and a brushless car wash.
Located twenty minutes northwest of Four Corners, North Pass Ranch is set back off the main road with a driveway approximately one mile long. The ranch is about ???? acres, part of it is forest. There is a lake, stream, and rocks with caves along the foothills. Lots of pasture land. It adjoins a national park (or BLM land). Chris has horses and cattle.
House:
Ranch style.
Rear of the house, left to right: Master bedroom & bath, boy's room, office, Kitchen, mud room/laundry
Front of the house, left to right: guest bedroom, bath, Great room with a dining area at the kitchen end.
Adam's room had bunk beds made from logs.
They convert the office into a playroom and put in a door to the boys room from the play room.
Josiah builds a loft bed to match the bunk beds in the boys' room.
Life before the flood:
The park the boys played in before the flood is called Pine Grove Park
The boys have lived together long enough that they have habitual places at the dinner table, which are shown the first meal at the ranch. (JD & Vin side-by-side, Ezra across the table from them). When Josiah and Nathan move into the Bunk House, Ezra moves to the same side of the table as Vin & JD.
John Daniel "JD" Dunne
Age 5. JD is the son of Rachel Dunne. JD's father was never a part of their family and has no interest in his son. He signed away his paternity rights when JD was a baby. Rachel worked as a housekeeper at a hotel. She tried to work her shifts so that she could be home at night with her son. Rachel suffered migraines and her medication made her sleep. She was taking her migraine medication the day of the flood and never woke up.
Vin Tanner
Age 7. Rachel's sister, Rebekah Tanner married a Texas Ranger. Her husband, James Tanner was born of a native American father and an Anglo mother. He spent much of his youth on the reservation and made his home there with Rebekah and their son, Vincent Michael Tanner. James and his partner were ambushed while tracking down a fugitive. Michael died saving his partner's life when young Vin was just three-years-old. Rebekah and Vin remained on the reservation for a time, but eventually moved to the city to her sister's home. Rebekah Tanner was working at a gas station mini-mart and was killed during a robbery when Vin was five. Rachel Dunne was designated as his legal guardian and cared for him as her own son.
Ezra Standish
Age 8. Ezra Payson Standish's background is uncertain. The story changes as Ezra or his mother, Maude Standish Wingo need. Approximately one year prior to the flood, Maude and Ezra moved into the Dunne's lower class neighborhood. The boys became acquainted riding the school bus together and became fast friends. After Maude met Rachel, she left Ezra to stay with her when she had business to attend to. She designated Rachel as Ezra's guardian and left him in her care when she had to flee the country.
Ezra's father was never a part of his life. He and Ezra's mother, Maude Standish were both barely 18 when she got pregnant. He couldn't deal with the idea of being tied down and raising a child when he was still a child. Without support from her own family, Maude was left struggling to make ends meet. In desperation Maude married the first man who had enough money to support them. She learned quickly how to manipulate people to get what you want, but soon found herself on the street again with a two-year-old, no husband and no means of support. Using her newly gained conning skills, she worked her way into Marcus Henderson's life, not realizing what she was getting in to. Her previous husband dabbled in side businesses of questionable legalities, but Henderson made him look like an angel. He needed a trophy and Maude fit the bill. Maude did not take well to being treated like property, but she endured the abuse for nearly a year until it touched her child. After a hospital stay they never returned home. Determined that she would never put allow herself to be in a situation where she 'needed' someone else to survive, Maude employed the skills she had learned to make a living for herself and her son, which often meant leaving Ezra with relatives or friends so she could accomplish her tasks. She made enough money to purchase a little house on 39th Street next door to Rachel Dunne and befriended the single mother.
While Ezra was hospitalized with pneumonia, Maude's past with Marcus Henderson caught up with her and she had to flee prosecution. Marrying Preston Wingo and hurrying off to Europe was the quickest solution. Unfortunately Ezra was too sick to make the trip and she couldn't wait until he was well enough to travel. Rachel Dunne took in Ezra Standish, already having been named his guardian, and he became her third son.
Chris Larabee
Rancher, Sheriff of Four Corners, early thirties
Chris was happily married to Sarah Connelly for six years. Three years prior to the flood, Sarah and their four-year-old son, Adam, were killed in a car accident. His grief was intense and he took a six-month leave of absence from his job.
Chris is no-nonsense. He says what he means and means what he says. Integrity and loyalty are priorities. He has no qualms in helping the boys confront their fears head-on. He spends time with each boy and thinks of all three as his sons.
Buck Wilmington
Rancher, Deputy, early thirties
Buck is a long time friend of both Chris and Sarah, living with Sarah's family from the time he was 12. Buck was never great at school work but he made fair grades. He was very close to Chris and Sarah considering them as his brother and sister and Adam his nephew. His early years were spent in a poor part of town. His mother was teased as a child for being poor and protected Buck from the same by making sure he dressed well. She was murdered when he was 12. He never knew his father.
Buck is fun-loving and has a big heart. He has a knack for comforting the boys. He has nicknames for each of the boys. He calls JD, Little Bit. He calls Vin, Junior. He calls Ezra, Ace.
Buck stepped in a hole in the dark while searching for Ezra. He had a hairline ankle fracture and damaged tendons. Is in a boot for about 6 weeks.
Josiah Sanchez
Counselor, Deputy, forty-ish.
After spending most of his childhood traveling the world with his father, Josiah's teen years were spent in Four Corners where his mother was born and raised. His mother died a few months after their return to Four Corners, and less than two years later his sister was institutionalized. Her illness was an impetus for Josiah to study psychiatry. He had a small practice in the city, but found he was happier working as a deputy and utilizing his skills as a chaplain and negotiator for the Sheriff's Department.
Josiah's home was destroyed in the flood. He was able to rescue some photo albums and other memorabilia which he had stored in plastic tubs. Josiah took up Chris' offer of housing at the ranch. The original temporary offer has been made permanent, and Josiah helps Chris and Buck deal with the boys' traumas.
Josiah has master carpentry skills, but has absolutely no mechanical ability.
Nathan Jackson
Medic, Deputy, late twenties
Similar to Josiah, Nathan was spurred to be a paramedic after his father developed a chronic illness. Nathan's mother committed suicide when he was seven, forcing him to grow up early. He helped care for his younger siblings, bringing out his gentle, caring nature. Medical school was beyond their financial capabilities, but Nathan trained to be a paramedic and went into law enforcement.
Nathan is in love with Raine Genessee, DVM. Raine has her own Veterinary Clinic in Four Corners. She handles large animals as well as cats and dogs.
Nathan's 2nd floor apartment was rendered unlivable when the first floor of the building was damaged by the flood. Nathan also accepted Chris Larabee's invitation to stay at North Pass Ranch. He will continue to live at the ranch indefinitely until such time as he and Raine find their own home.
Nettie Wells:
Housekeeper / Child care, early sixties
Nettie wells is fourth generation in Four Corners. Her great grandfather was the first Sheriff of Four Corners (then Paso Del Norte) in the 1860s. Her husband Tom, was Sheriff for 24 years before dying of a heart attack while on the job. Chris Larabee succeeded him as Sheriff. Nettie's first job was teaching school and most of the residents of the area know her as "Miss Nettie" having either been in her class or having one of their children or siblings in one of Nettie's classes.
Retiring from teaching, Nettie went to work at the Sheriff's department as a dispatcher. She retired from the department a couple of years ago but still drops by the office to help out when she's needed. She served as a Red Cross volunteer immediately after the flood and met the boys at the elementary school shelter. Seeing three little boys who needed her, she volunteered to take care of them to give them consistency and stability while Chris and Buck are working.
Nettie is homeschooling the boys at least through the summer, until the overcrowding eases at the local school.
Dr. Lynn Ashby
Therapist who works with children / families. She divides her time between the practice in Four Corners and an office in the big city. She has her young clients call her by her given name rather than her surname or title to remove barriers. Sessions with children last 20-25 minutes due to shorter attention spans.
Tiny
A gentle giant who is a neighbor to Chris. He is a blacksmith/farrier and works on the ranch.
Casey Wells
Nettie's 5 year old great niece. Stays with Nettie when her mother, Catherine travels for work.
Gloria Potter
Dispatcher for the Sheriff's department. She is widowed with 2 children.
Charlie
Chopper Pilot for the Sheriff's department
Virgil Davis
Deputy in the Sheriff's department. Wife, Christine. Daughter, Jennifer age 12. Twin 9 year old boys, Tim and Terry. Their home was damaged in the flood and Chris, Buck and the boys help them rebuild.
Animals:
Dogs
Chris has a black Labrador Retriever named Sam. Sam is in his twilight years. He seems to sense when one of the boys needs a friend and comforts them with his presence.
Vin also has a Labrador Retriever, named Dobie (pronounced dough-bee). Dobie got his name when Vin was little and couldn't pronounce "doggy." Dobie is missing a small chunk of his ear from being chewed on as a puppy. He has white toes on one foot, otherwise is black. Wears a purple collar. Dobie is full of love and energy.
Horses
Chris has a number of horses at the ranch. A half-dozen or so of the horses are 'refugees' from the flood, including Peso, Milagro and Chester, whom the boys are attached to.
Cattle
North Pass Ranch is a working ranch. Chris runs cattle both on the ranch and on leased land from the BLM and neighbors.
Vehicles
Chris drives a black king cab truck.
Buck's classic Chevy pickup is not built for hauling the boys around (no back seat for booster seats), so Chris decides the ranch needs to invest in a used vehicle that will work hauling trailers as well as kids. They find a five year old suburban that fills the bill.
Chris, Buck, Josiah, Nathan will occasionally drive sheriff's department vehicles – all are four wheel drive Jeep Cherokees or similar.
Closing thoughts
This AU is open. My preference is that the boys would stay with Chris (if you steal one of them away, please bring him home). I would also prefer that there are no sexual situations. If you have questions or want any input, drop me a note.