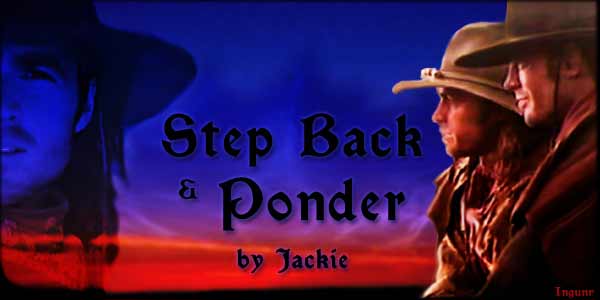 Disclaimer: I don't own 'em though I darn well wish I did. They belong to you know who, I just borrowed them for a while and I'll grudgingly give them back!
Notes: I started this back in October 2001 and finished in April 2003. When I wrote the first 3 or 4 parts, I hadn't seen 'Achilles' and so any similarity is purely coincidental!
Also, I hope I got all the facts right where they were needed, but if I didn't I apologise, and hope it doesn't take away the enjoyment from the story. And I'm English so pleasze forgive me for any 'speak' that's wrong
Well, as always I have to thank my best pard Ingunn, for her support throughout the long and arduous 'Step Back and Ponder' journey, and also for the beautiful picture she created to go with it. Thanks Pard!! I'd also like to thank Nin for her feedback and support and my big Sis Kerry, for her never ending encouragement.
Okay, I'm done, all that's left for me to say is, I hope y'all enjoy the show!
Feedback: Ah hell, why not! But no flames please. Thanks!
Size: Approx. 520K
Comments to: jackie15@gmx.co.uk
---