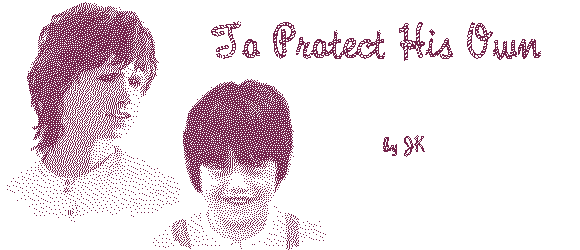 "Little Britches" Universe

Thanks to the AOL Chat for your encouragement and hounding. I am told this story needs a hankie warning. Special thanks to Kerry "McMuse" who managed to beta in spite of difficult circumstances. To better times, my friend.
---
JD chattered excitedly as he and Vin crossed the street. Mr. Chris had given them each a penny and said they could go to Mrs. Potter's store and buy some candy. Vin was just as eager as JD to make the purchase to satisfy his sweet tooth, but he was much more reserved than his five-year-old cousin. He clutched their two pennies tightly in his grimy fist, protecting the treasure. It was the first time that Mr. Chris had given them money to spend on their own. Vin figured it had been a reward of sorts. He and JD had done all their chores and had managed to stay out of trouble for a whole week, not an easy thing to do with someone so curious and carefree as JD. The five-year-old had been afraid of losing his penny so he entrusted it to his older and wiser cousin for safekeeping. Vin clutched the pennies a little tighter, knowing how much it meant to JD.
Chris watched the boys making their way across the street, as he talked with Josiah. He could see JD jabbering a mile a minute while Vin nodded to appease the younger boy. Over the past couple months, Vin had begun to relax a little and settle in to their family. He was still fiercely protective of JD, but had begun to allow Chris and Buck to pick up some of the responsibility for his young cousin. In fact, there were some days now that Vin seemed to forget he was a 'little man' and he would run and play with JD until both were worn out. Far different than when he arrived, most days now Vin was willing to accept a pat on the shoulder or an occasional hug, the simple displays of the affection he craved. Chris smiled as he watched JD hopping up and down urging Vin to hurry, while the seven-year-old maintained his steady, efficient pace. Chris' coffee cup froze half way to his mouth when he saw Vin stop altogether, seemingly frozen in the middle of the street.
"Come on, Vin! Hurry up!" urged JD, but Vin didn't hear him. He couldn't think to move his feet. He couldn't do anything but stare in shock at the man who had just come out of Mrs. Potter's store. The tiny Texan's heart began to race wildly, his blood pounding in his ears, drowning out every other sound. Vin gasped as his body suddenly remembered that it needed to breathe, but the shuddering breaths he was able to drag in only fed the terror as he stood trembling in the middle of the street.
Vin closed his eyes hoping against all hope that this wasn't real, that his nightmare had not followed him to his new home. How could he know Vin was here? Unwanted memories pressed their way into his consciousness and Vin shuddered as the voice in his memory hissed, 'You ever say anything boy and I will kill everyone you care about.'
JD stepped up onto the bottom step to the boardwalk at the same time as Vin's living nightmare reached the top of the steps.
'No! JD, run!' Vin screamed the words in his mind, but couldn't make his voice work. His mouth was frozen in place along with the rest of his body.
Suddenly, Vin was hit hard from behind and knocked towards the dirt. Strong arms that wrapped around him trapped him into rolling over and over with his rescuer until the steps of the boardwalk halted their motion suddenly. As Vin's small blonde head impacted the bottom step, his little hand went limp and the two treasured pennies rolled away in the dirt, disappearing under the boardwalk.
"Chris!" yelled Buck as he ran from the jail toward his fallen friend. He had just stepped out of the office and had seen Chris tackle the small boy, saving him from the fast moving wagon that was bearing down on him. His heart leapt with fear as his oldest friend barely rolled the two of them to the side of the street near the boardwalk, getting the small boy clear of the danger.
JD stood on the step, fear plain on his face as he stared down at Mr. Chris and Vin and then back to the wagon that barreled past. When his frightened mind pieced together what he was seeing, JD found his voice. "Vin!" he screamed. "Vin!" When his cousin didn't move, JD just knew for sure that he was dead. "Vin!" He scrambled back down the few steps to where Chris was starting to sit up.
"Hold up there, little bit," said Buck scooping up JD around the waist and setting him on the boardwalk next to him. "You let me check 'em out." Buck leaned over Chris. "You alright, Pard?"
Chris nodded, trying to catch his breath. He looked down to the limp form below him. "Vin?" he gasped when he caught sight of the blood that was running from a gash high on his forehead where he had evidently hit the step. "Vin?" With no response from the boy, Chris looked up at Buck. "Get Nathan! Hurry!"
Buck looked across the street through the crowd that was forming and saw that Nathan and Josiah were already headed their way. "He's comin', Chris."
"Vin?" Chris called again to the injured boy with a chilling fear churning his stomach. Had he rescued Vin from the wagon just to injure him worse by the fall? After a few tense moments, Vin's thin face scrunched up in pain and Chris shivered with hope. "Come on, son," he urged. "Open your eyes."
Blue eyes fluttered open, the long lashes not hiding the seven-year-old's confusion. "It's all right, Vin," Chris assured softly. He watched the eyes follow his voice and focus on him. "It's all right."
"Hey Chris," said Nathan as he reached the pair at the foot of the steps. "Let me have a look here." Vin's eyes flicked to Nathan then back to Chris uncertainly. Stepping into his line of sight high up on the boardwalk behind Chris was the object of his fear. Vin's eyes widened and he gasped.
"Sorry, Vin," said Nathan, assuming that his probing for injuries had found a sore spot. "You hurt anywhere besides this bump on your head?"
Vin sat up and reached blindly for JD never taking his eyes off the stranger in the crowd. Chris caught the thin wrist gently as the arm flailed in Buck and JD's direction. Sensing what Vin was wordlessly seeking, Chris reassured him, "JD's right here, Vin. Buck's got him. He's fine." Chris leaned forward trying to draw Vin's line of sight to him. Vin seemed to be staring into space. "Vin, Nathan needs to know if you hurt anywhere else?"
Buck stepped up beside Chris, inadvertently blocking Vin's vision of the threat. Vin blinked hard several times and shook his head slowly. "Well then, let's get you up to Nathan's and take care of that bump."
Chris started to pick Vin up but was surprised when the seven-year-old scooted away from him. Vin stood up on his own and bolted across the street towards the clinic, leaving the men to follow him. Chris and Buck exchanged puzzled glances, each wondering what was going on in that little head. Buck shrugged in answer to Chris' silent question as he started to climb the steps leading to the clinic. He was carrying JD, gently wiping the tears off of the youngster's face. He didn't know why Vin had pulled away. Maybe he was just embarrassed by the accident.
+++++++
Vin sat quietly on the table in the clinic as Nathan washed then stitched the cut on his forehead. He was trying to be brave but he couldn't seem to stop trembling. Vin had thrown up when he reached the bottom of the stairs, his stomach unable to handle the intense fear and his breakfast at the same time. He had tried to go up the steps to the clinic, but he couldn't force himself to go into the small room. Vin scowled at himself. He had been to Nathan's clinic many times and it had never bothered him that much that it was such a small room. He had flinched when Chris picked him up and struggled against his guardian as he was carried into the clinic. Once inside he stopped fighting and had to focus on staying calm.
He winced a couple times and unshed tears welled in his eyes, but the tears weren't from the pain of the gash. They were from the realization that Ebenezer Sanders had found him and would now carry out his threat. 'You ever say anything boy and I will kill everyone you care about.' Vin shuddered at the thought. What was he going to do? He was certain that Sanders had seen him and would now kill JD and Mr. Chris and Mr. Buck.
"There ya go, Vin," said Nathan gently patting Vin on the knee. Vin flinched away from the touch. Nathan chewed on his lower lip, then let out a slow breath. Vin hadn't reacted in fear towards the healer's touch for quite awhile. 'He's probably just scared from the accident,' Nathan rationalized. The healer frowned as he looked closer. Vin looked more worried than scared. "You'll be just fine Vin." Nathan assured. "Your head is gonna hurt for a few days, so you'll want to take it easy. Okay?"
Vin gave a single nod and scooted off the table.
"You 'kay, Vin?" asked JD as he scrambled out of Buck's arms. Again Vin answered with a nod. "Where's my penny? Can we go get our candy now?" JD asked expectantly. Vin was okay, so they could go spend their treasure.
Vin opened his hand already knowing that JD's precious penny as well as his own were gone. Mr. Chris had trusted him with that money and he had lost it. JD was counting on him to keep his penny safe and he had let him down. His feeling of failure was nothing compared to the threat of death he had now brought on his family. Vin lifted his pain-filled gaze from his empty palm to meet Chris' green eyes.
The rancher's stomach twisted as he read the self-ridicule and sorrow in Vin's blue eyes. It was only a penny, but he could tell Vin felt he had utterly failed. Those eyes cried for forgiveness but there was something more that he couldn't quite read. Despair? Chris reached out for Vin to pull him into an embrace, but once again Vin backed away, this time with tears spilling down his cheeks. Chris couldn't understand it. He and Vin had come so far. The reticent boy had been hungry for affection but so frightened to accept it. They had made large strides, both in Chris showing affection and in Vin receiving it. Now, Vin seemed to be refusing it altogether, rejecting the very thing he craved.
Chris knelt down in front of Vin. The seven-year-old was pressed as far away as the wall would let him. "You wanna tell me what happened out there? Why'd you stop in the middle of the street? Didn't you see the wagon coming?" The words were spoken softly with no condemnation. They were voiced from concern, from fear of what could have happened, but to Vin they simply reinforced his failure and the coming tragedy. Vin stared at his boots, unable to meet Chris' gaze.
"Vin?"
Vin shook his head. He couldn't tell Mr. Chris. 'You ever say anything boy…'
Chris watched the shudder run through the tiny frame. Something was terrifying Vin. Chris thought about the boy seemingly frozen in the middle of the street. Something had scared Vin even before the wagon had nearly run him down. Chris could see that clearly Vin was too disturbed to talk about whatever it was. "All right, for now, you and JD wait outside on the bench. We'll talk about this later." Chris' heart shredded a little more as Vin cautiously made a wide circle around him and went out onto the porch.
"But what about my penny?" complained JD.
"You wait on the bench, JD," said Buck. "We'll see about your penny later."
JD frowned. He didn't like that one bit. He wanted his penny so he could go get his candy now, but he walked outside and plopped down on the bench next to Vin.
Buck closed the door and turned back to his worried partner.
"Nate, has Vin got a concussion?" asked Chris.
Nathan settled wearily on his chair. He had been up all night with Mrs. Fergusen delivering a baby who had taken his time in arriving. Nathan rubbed his hand across his face stifling a yawn. "He could have a slight one, but his eyes seem normal. Why?" Nathan figured he already knew what Chris was getting at, but he asked the question anyway.
"Anyone besides me notice that Vin ain't said one word since the accident?" asked Buck.
"Something has him scared, Buck," said Chris, "and I don't think it was just the wagon."
As the men inside Nathan's clinic tried to sort out what was going on, two boys sat outside the clinic with their own troubles.
"Why'd ya let go a my penny?" JD accused planting his tiny hands on his hips and frowning.
Vin sighed. JD just didn't understand. It was obvious that his cousin hadn't seen Sanders or he wouldn't have been worried about a dumb old penny.
"I said, why'd ya let go a my penny!" insisted JD loudly.
Vin scooted to the far end of the bench trying to shut out JD's whining so he could think.
He closed his eyes as his headache really began to pound. The darkness allowed the vicious voice to whisper again, 'I'll kill everyone you care about.'
Vin stood up and paced the deck. He had to do something. Who was going to protect JD and Mr. Chris and Mr. Buck? Sanders was going to kill everyone he cared about, so maybe if he didn't care about them then Sanders wouldn't kill them. He could go to Mr. Josiah. Yeah, that would work. He could get Mr. Josiah to send him to another family. Vin stopped at the porch rail and closed his eyes tightly. No, that wouldn't work. Then the other family would be in danger. Besides, he didn't want another family. He wanted his family.
The pacing started again. Mr. Ezra! Yes! He knew lots of tricks. Maybe he could help trick Mr. Sanders into going away, or at least taking him instead of his family. Vin headed for the steps.
"Hey! Where you goin'?" called JD. "Mr. Buck said to wait."
Vin looked back sadly at JD, afraid that if he followed through with his thinking, that it might be the last time he saw his cousin. At least he had kept his promise to JD's mama. He promised to look out for JD and Vin reckoned that having Mr. Buck and Mr. Chris was the best job of looking out for his cousin that he could do. Without a word Vin hurried down the steps in search of Mr. Ezra.
+++++++
Vin found his quarry right where he expected him to be - at his table in the saloon. He ducked under the batwing doors and quietly approached the brightly dressed gambler.
"Well, Master Tanner, what mishap has befallen you?"
Vin blinked uncertainly. Every time he talked to Mr. Ezra he learned new words.
Ezra smiled at the confusion on the seven-year-old's face. "How did you hurt your head?" He watched the boy's hand creep up to his forehead and explore the bandage.
Ezra waited for information, but apparently that was all the explanation he would get. Seeing that something was weighing heavily on the child, Ezra nodded to the chair beside him and Vin sat down heavily.
"Can I do something for you, Master Tanner?" Ezra shuffled his cards, waiting patiently as he watched the boy mulling over his problem.
Vin sighed. It dawned on him that by talking to Mr. Ezra, Sanders could think he cared about him and Mr. Ezra would be in danger. Vin shook his head "no". He could not drag Mr. Ezra into his mess. As he stood and turned to make his escape from the saloon his nightmare pushed through the batwing doors. Vin unconsciously took a step backwards before bolting behind the bar, rushing past Inez and out the backdoor of the storeroom.
Ezra watched uncertain of the boy's reaction, but the mark approaching him looked very promising.
+++++++
Vin ducked behind the water barrel in the alley as he saw Mr. Chris and Mr. Buck come out of Mr. Nathan's clinic. Mr. Buck was waving his arms, but Mr. Chris put his hands on his hips and stood stiffly. He was mad. JD was crying. Probably over that dumb penny. Vin knew he was in trouble for taking off, but it didn't really matter anymore. Adding one more sin to his list wouldn't make a difference.
Vin ducked behind the buildings making his way toward the livery. He couldn't risk being seen. The way he figured he had two choices. He could make JD and Mr. Chris and Mr. Buck hate him so Sanders wouldn't think he cared about them and kill them, or runaway so old man Sanders would follow him and leave them alone. Vin didn't like either choice. He couldn't bear the thought of making Mr. Chris be mad at him. To a little boy who lived and breathed for the approval of the blonde rancher, a cross word was heart breaking. If he ran away he would be breaking the promise he had made to Mr. Chris to never run away again. But what choice did he have? Vin peeked around the end of the store. It was a short dash to the livery from where he crouched. After checking carefully for anyone who might be watching, he sprinted to the barn and ducked inside.
Vin climbed into Peso's stall as the horse snorted at him. He patted Peso and sat down in the corner of the stall to think. Mr. Chris would understand if he ran away to protect them, wouldn't he? Vin shook his head. Nope. Mr. Chris said not to run away no matter what. What was he gonna do? He couldn't stay and he couldn't go. Tears began to trickle down his cheeks. He wiped them away with a dusty sleeve leaving streaks of dirt behind. Dang it. He was getting too big to cry.
Peso nuzzled him looking for a treat. Vin scratched the horse's ear and smiled slightly when Peso leaned into it. It was with sadness that he realized that even if he did go it wouldn't be right to take Peso. Sure, Mr. Chris had given him Peso as a gift, but he had done so thinking that Vin was staying. He didn't give him the horse expecting that Vin would run off. Nope, that wouldn't be right.
Vin's head pounded. He gingerly touched the bandage fingering the frayed edges of the cloth. He was so tired. This wouldn't be so hard if old man Sanders would just take it out on him alone and not his family. Vin figured he could handle it. He had taken it before. Lots a times. Just as long as Sanders didn't lock him in a closet. Vin snuggled into the hay suddenly feeling cold. Even if it got real bad, at least JD and Chris and Buck would be okay. Vin wasn't the least bit sorry that he had told on old geezer Ebenezer Sanders. He was a bad man and he deserved worse than getting put in jail. At least getting him fired got the Sisters to take over the orphanage. Eventually he and JD got sent out here on the train and found a family with Mr. Chris and Mr. Buck. He shuddered with the thought that because of him, his new family was in danger. With a sigh he folded his arms over his bent knees and cradled his head on his arms. He would rest for just a minute, and then he would figure this thing out.
++++++
Chris looked over the stall door and smiled grimly. He had finally located his missing charge. Chris patted Peso before leaning down and lifting Vin from the hay. He hoped he wouldn't wake the boy. It had been a trying morning and a little nap wouldn't hurt. Vin grunted in protest of the movement but snuggled against Chris's chest. The grimace on the child's face told the rancher that Vin was hurting from the accident. He decided to take Vin back to Nathan's to let him sleep. JD was with Buck at the jail and either of them were naturally boisterous enough to wake Vin.
Nathan looked a mite sleepy himself as he nodded to Chris to lay Vin on the cot. Yes, he would watch Vin while Chris relieved Buck at the jail. Chris nodded his thanks and closed the door softly behind him as Nathan went back to his reading.
+++++++
Ezra watched his opponent closely. Perhaps the man could have been a worthy adversary if he didn't imbibe so much. As it was, the man was a drunken bore. He rattled on endlessly about his conquests. Still the nonstop prattle kept the man unfocused so Ezra encouraged him to continue. If only all the rubes that sat at his gaming table were so easily distracted.
"So what would you say was your greatest ruse, my friend?" asked the southerner.
"Well, if you want to pocket easy money, get yourself a children's home. I'd say the orphanage gained me the most capital." Ebenezer Sanders leaned back in his chair with a smug grin. "It was a sweet set up my friend. No one questions the motives of a priest providing for a handful of waifs." Sanders took another swig from his bottle and belched. "Discipline is no problem," he said with an evil grin. "No one cares how you keep the runts in line as long as you keep them away from their children and out of their hair."
Ezra worked hard not to show his distaste. He had seen a few orphanages in his younger days and had witnessed the negative effects of so-called "discipline" on young Master Tanner and Master Dunne.
"Three please," said Sanders dropping three cards on the table. "Your options are many. I had money coming in from donations to feed the little brats. I made money selling their belongings - couldn't allow the little bastards to keep anything. Might cause jealousy or fighting and then I'd have to apply more discipline." He winked at Ezra who was maintaining his poker face with great effort. "Sold some of the boys to farmers who needed extra hands. But, I gotta tell ya, the biggest coup was boarding fees."
Ezra had to admit his curiosity was peaked in spite of his distaste for the man. "Boarding fees?" Ezra blinked as the man leaned closer and foul breath assaulted the southerner.
"There's an awful lot of folks who need a quiet place to hide out for awhile," he whispered loudly.
'Good Lord,' thought Ezra. 'The man was harboring criminals, likely feeding them the food meant for the unfortunate children.
"Yes, I suppose you're right," replied Ezra looking at his cards. He knew he held the winning hand but no longer had a desire to spend any time with this man, even if it meant foregoing easy money.
"Ah hell," complained the drunk as he examined the cards Ezra had given him. "I fold." He threw his cards on the table in disgust. "Think I'll get some air."
Somehow it seemed like a good idea to the gambler as well.
+++++++
How could one little boy contain so much energy? Chris sat at the desk in the sheriff's office going through wanted posters while JD practically bounced off the walls. Buck had been out on patrol almost two hours now and Chris was just about at the end of his patience.
"When's Vin going to get up from his nap?" JD hopped into the chair next to Chris swinging his feet, grinning at the satisfying thunk his boots made against the desk with each swing.
Chris's hand clamped on the dusty leg ceasing the swinging. "Soon JD. He had a rough morning."
"I know. Can I go look for my penny?"
Chris laid the poster on the desk and walked over to the stove to get a cup of coffee. "No, JD. Maybe after Buck gets back." Chris poured his cup and took a sip. Turning back towards JD he almost choked on the brew. JD had scooted onto his knees and was busily drawing a mustache on the wanted poster with the pencil they kept in the desk. Chris briefly thought of reprimanding him but figured a mustache was a likely disguise anyway. He reached down and turned the paper over to the blank side and smiled at JD's beaming grin. JD began to draw big circles on the paper and little circles with the tip of his tongue peeking out of the side of his mouth as he concentrated. He added eyes and mouths and soon proclaimed he was done.
"Well let's see what you have there."
"That's you and Mr. Buck and me and that's Vin," said JD pointing to the blobs in his picture.
Chris looked at the picture not sure if he should read more into it than JD offered. The blobs representing himself, JD and Buck were grouped together and Vin's was by itself.
"Do you like it, Mr. Chris?" asked JD expectantly.
"It's a fine picture, JD." Chris plunged ahead, "Why is Vin all the way over here by himself?"
"He's not by hisself. He's outside. Vin doesn't like to be inside," answered JD as he turned over another poster to draw on. Chris smiled. Everything was so simple to JD.
"Why doesn't he like to be inside, JD?" asked Chris.
JD drew a blob with four sticks on the bottom, presumably a horse or a dog, and was scribbling furiously to color in the blob. " 'Cause old Geezer Neezer beat him and locked him in the closet." Chris grimaced. He knew there was ugliness in Vin's time at the orphanage but, until now, neither boy had defined any of their treatment. Chris watched as JD's controlled scribbles moved outside the lines and he began to fill the entire page with darkness. "He scared Vin really bad." The scribbling became more forceful.
Chris laid his hand on JD's tiny fist stopping the violent movement. JD looked up with tears in his eyes. Vin wasn't the only one old Geezer Neezer had frightened. Chris closed his eyes briefly. They had really missed it. Some of the damage inflicted on Vin in the orphanage was obvious in his physical scars, nightmares, and his reticence. But somehow with JD's enthusiastic energy or because of his young age they had assumed he had escaped the ugliness. Apparently not. Chris sighed with guilt.
"What happened, JD?" asked Chris gently.
"I stealed the key when Geezer Neezer weren't lookin'." JD ducked his head. "I know that was bad, but I had to get Vin out. He was in there a long time."
"You did right, JD." Chris assured. "What happened then?"
"I let Vin out. We telled the sheriff and then the nuns came." JD began his drawing again but this time the motions were smooth and easy.
+++++++
Vin rolled on to his back and stretched before opening his eyes enjoying the warmth of the blankets. His days in the orphanage would never let the boy relax as he woke. Vin bolted upright fearing he had overslept. His eyes searched the room in confusion as his heart pounded. 'Mr. Nathan!' He spied the healer sleeping slumped over his books. He took a couple of calming breaths as he realized he was in Nathan's clinic not back in that horrible orphanage.
Too quickly the fear returned when the realization that Geezer Neezer was in town overwhelmed him. Again he tried to work out what to do. Mr. Chris and Mr. Buck and JD were going to die and it was all his fault. If he hadn't stumbled onto that outlaw hiding in the basement of the orphanage maybe none of this would be happening.
'I'll kill everyone you care about.'
Vin slipped quietly off the bed. He couldn't make Mr. Chris hate him. He couldn't runaway. That only left one option he could think of. Geezer Neezer had to go. Vin moved stealthily over to the chair by the stove. Mr. Nathan's holster hung over the back of the chair. Vin carefully slid the pistol out of the holster holding it with both hands. It was heavy and it took both his hands to keep it from falling to the floor. He struggled to check the ammunition in it, mimicking Mr. Chris' motions he always went through before leaving the house. When he saw that all the holes were filled, he took one last peek over at Nathan to make sure he was still asleep and drew in a deep breath. He crept out of the clinic carefully closing the door behind him. He knew where old Geezer Neezer was and he knew what he had to do. He had to protect his family.
+++++++
Vin found himself on the boardwalk outside the saloon just as Ebenezer Sanders exited. The drunk came to a startled stop at the sound of a pistol being cocked. He turned to see a scrawny kid no more than six or seven with a pistol aimed at his gut.
"What the hell are you doing, boy?" he slurred. While the child held a gun pointed at him, Sanders was too drunk to perceive him as a real threat. He was after all, a small boy and could barely hold the heavy handgun with both hands.
Inside the saloon, Ezra, ever vigilant saw the boy with the gun through the window. He raced to the batwings, stopped suddenly and very slowly pushed out onto the boardwalk. It wouldn't do to startle Vin.
"Master Tanner," said Ezra softly. "Is there a problem?" The southerner swallowed at the cold expression on Vin's face. The miniature Larabee glare was impressive.
"Yeah," slurred Sanders, "Is there a problem?" He took a step toward Vin and Vin raised the gun threateningly in response.
"You ain't gonna hurt my family. I ain't gonna let ya," said Vin softly and before anyone could move he squeezed the trigger.
+++++++
Josiah dropped his hammer and grabbed his gunbelt and strapped it on, responding quickly to the sound of the gunshot. He scanned the street as he hurried down the steps, spotting the gathering crowd near the saloon.
Nathan jerked awake from his nap and blindly grabbed for his gunbelt. The light weight of the belt caught his attention and he was shocked to find his holster empty. Glancing at the empty bed as he grabbed his throwing knives he hoped that Vin had gone to the jail and was safely with Chris. He hurried out on to the landing above the stairs spotting the commotion by the saloon.
Chris hurried out of the jail. "JD, you stay put. Don't you leave this jail!" he ordered as he hurried toward the saloon.
Buck urged his horse into a gallop as he neared the town. He was sure he heard a shot.
Ezra quickly gathered his wits. He had to get the gun away from Vin before someone was seriously hurt.
"Dammit boy! What the hell are you doing? You pert near shot my ear off," growled Sanders taking another step toward the boy.
"Vin, let me have the gun," said Ezra soothingly. "No one's been hurt yet."
Slightly sobered by the fear of the moment and hearing Vin's name, Sanders finally made the connection. "You little runt. Would have thought for sure you would be six feet under by now. What, with all that trouble you caused." He lunged forward to grab the frightened boy, heedless to the dangerous men who had surrounded the two. Josiah was now behind Vin covering his back. Nathan was positioned at the corner of the building ready to prevent any escape.
"I lost me a good year of my life cause of you. Come here. I'm gonna teach you a lesson you ain't gonna forget so easy this time."
Vin was breathing hard fighting back the fear. He forced himself to stand his ground. Ebenezer Sanders was not going to take his family. Vin cocked the gun again and recentered his focus on Sander's gut. He wasn't going to miss this time.
Seeing the hard glare on the child's face, Sanders realized he was truly in danger. He turned to Ezra for help. "Don't just stand there. Make him put down the gun!"
Ezra having heard and seen everything, and piecing it together with the conversation at the poker table knew that this cretin had run the very orphanage that had damaged Vin and JD. "You are on your own, Sanders. In fact, if Master Tanner sees fit to shoot you, I'll buy the boy his first rifle with a year's worth of ammo."
"Ezra!" growled Chris softly, unaware that JD had followed him. Chris slowly moved next to Vin trying not to startle him. JD got one look at Sanders and let out a blood-curdling scream. Vin jumped and jerked the gun dangerously.
"Easy Vin," soothed Chris. "Easy."
Buck heard JD's cry and came running. Seeing the situation and not wanting to spook Vin, he slowed down and sidled up to JD. He pulled the terrified child into his arms as JD cried, "It's Geezer Neezer. He's going to hurt us." Buck didn't have a clue who Geezer Neezer was, but he wasn't going to let him hurt JD. Buck shifted JD to his left hip, keeping his gun hand clear.
Geezer Neezer. Chris didn't have the whole story, but he had enough to know that this was the man who had beaten Vin and locked him in a closet at the orphanage. Chris knelt on one knee next to Vin and quietly spoke. "Vin, I need you to put the gun down."
"I can't," said Vin never taking his eyes off Sanders who was now sweating profusely.
"Vin, put the gun down." Chris was doing his best to stay calm. He knew that Ezra, Buck, Josiah and Nathan would protect him and Vin, but he wasn't sure what Vin would do.
Vin didn't answer. It was taking all his effort to hold the gun. His arms were getting tired and his head was starting to pound again. He knew Mr. Chris was upset with him, but Mr. Chris being upset was better than Mr. Chris being dead was.
"Vin, you don't want to shoot him," said Chris softly.
"I got to," whispered Vin.
Chris edged a little closer to Vin. "Why Vin?" He was close enough to see the tremor run through the small frame.
" 'Cause he's gonna kill you." Vin shifted his stance as the gun seemed to get heavier. "I ain't gonna let him hurt nobody no more."
"Vin, look around you." Chris watched as Vin's eyes flitted to the sides then back to his prey. "He isn't going to hurt anyone here. Give me the gun." Vin shook his head slightly and Chris knew he'd have to take a stronger line with the boy.
"Vin, if you shoot him, I'll have to put you in jail."
"Better me in jail than you dead." The hardness of the words chilled Chris.
"Vin you do understand that if you kill him, it's forever. There are no do-overs. No second chances." Chris bit his lip when Vin nodded. Of course Vin would know death was forever. He'd watched his pa murdered and later his ma die of putrid fever. He'd seen JD's mother die. And he was only seven years old.
Sanders laughed nervously. Vin shuddered. Chris reached for the gun but Vin took a step away from him.
"Remember what I said boy," said Sanders.
"You ever say anything boy and I will kill everyone you care about," whispered Vin.
Chris bit back the fury he felt. Sanders was still terrorizing Vin.
"Don't let him hurt us Vin," sobbed JD.
"Hush, Little Bit," said Buck hoping JD hadn't just made things worse.
"No, Buck! He hurt Vin bad. He locked him in a closet a long time." JD looked at Buck and continued in his whisper, which was loud enough for everyone to hear. "He said if Vin telled, he would kill us. Vin telled, Buck. Then the sheriff came with a posse. They got the bad guys out of the basement. Geezer Neezer went to jail and we was glad."
"Is that what happened, Vin?" asked Chris. Vin nodded slowly, arms trembling in exhaustion. "Boys," said Chris, "Would you mind covering this pile of manure? Vin's getting a mite tired."
"My pleasure," said Ezra pointing his gun at Sanders.
"Mine too," said Josiah from behind them.
"See Vin. We got him," said Chris. "You can give me the gun now. All right?" The gun clattered to the boardwalk and Chris found himself smothered by a seven-year-old embrace. Vin's arms were clamped tightly around his neck, with his face pressed onto Chris' right shoulder tucked under his chin. Chris found his eyes misting as Vin so openly displayed his need. Chris wrapped his own arms around the boy offering the security Vin needed so desperately.
"I would suggest that you accompany us to the jail." Ezra addressed Sanders with the barrel of his gun. Josiah stepped up beside them.
"Perhaps I could use his confinement to enlighten him to the proper treatment of children." Josiah gave the man a shove toward the jailhouse.
"He all right?" Nathan asked Chris as he picked up his gun of the boardwalk. He was greatly relieved that his negligence in watching Vin had not led to tragedy.
Chris nodded. "I think so."
"Why don't we go up to my clinic just to be sure," suggested Nathan. "And bring that little one too," he added nodding toward JD. Chris smiled grimly appreciating the fact that Nathan was giving them a private place to be with the boys away from the prying eyes of the townspeople.
+++++++
Almost an hour later Nathan was still waiting on his porch. Inside the clinic two men and two boys had talked about the events of the day and had a pretty true picture of what had happened. Vin understood that what he had done was wrong. He still clung to Chris, afraid if he let go he would lose him.
Ezra rapped lightly on the door before sticking his head in. "Mr. Larabee? Just thought you would like an update." Chris nodded and Ezra came in. "I sent a wire to the municipality in question and unfortunately Mr. Sanders has indeed served his term."
"Damn," swore Buck.
"Yes, well, uh…" stammered Ezra.
"Just spit it out," said Chris.
"Well it seems some of the townsfolk are throwing Mr. Sanders a farewell…uh…party. I though you might want to participate."
"Yes sirree," said Buck.
"Think I'll stay," said Chris nodding to the huddled form in his lap. He didn't know how long Vin needed to feel the security of his embrace, but he wasn't about to shortchange the boy no matter how badly he wanted to say 'goodbye' to Sanders. Chris smiled as JD climbed up in his lap and snuggled up to Vin. Buck and the others would give Sanders a farewell he wouldn't forget. Chris wouldn't trade this moment for the world.
+++++++
It was early evening. Sanders had been run out of town under threat of tar and feathering. Vin had finally climbed off Chris' lap of his own accord. He still held the man's hand as they walked down the street.
"I'm hungry," said Vin.
"I bet you are," replied Chris. Vin had lost his breakfast after the accident, he'd slept through lunch and now he was finally calm enough to realize he was hungry. "Let's go to the hotel restaurant and then we'll head home."
On the way to the hotel they passed by Mrs. Potter's store.
"Sure wish I had my penny," said JD.
Vin sighed. His cousin sure had a one-track mind. He slipped his free hand in his pocket, shocked to feel coins there. He stopped, pulling his hand free from Chris' and digging through his pocket with both hands. His mouth dropped open as he found two brand new shiny bright pennies. He held open his hand in shock.
Chris looked around, not knowing where the pennies had come from. His eyes caught Ezra's and the southerner tipped his hat. Chris shook his head with a smile. "Hey Ezra. Join us for dinner?"
"My pleasure."
Soon the two boys and five men were seated around the table finishing their dinner. Vin had asked Mr. Chris to hold the pennies for him and Chris obliged. Everyone laughed when Vin wanted pie for dinner. Nathan thought it might be too much for Vin's stomach after such a trying day so Vin ordered biscuits because Mr. Nathan thought it was a better choice. What Mr. Nathan seemed to have forgotten was that to Vin a biscuit was simply a honey holder. He smothered the cakes in the sweet nectar.
JD was chattering away retelling the story of Geezer Neezer leaving town. Sanders horse had thrown a shoe, forcing the horrid man to stop in Four Corners in the first place. Somehow Tiny had never found time to fix it, so he had to leave rather hastily on the only available transportation…a mule.
"An ass on an ass," blurted JD. Buck's eyes widened. Chris glared at Buck. He had warned him about watching what he said around the boys. Ezra, Josiah and Nathan struggled to keep a straight face.
"That's what Mr. Buck said. He said old Neezer was an ass…" JD frowned at the hand which was clamped over his mouth.
"Now JD, old Buck didn't say…"
"Yes you did," said JD. "You said…"
"Well, hey, JD. How's your dinner? Why don't you finish your milk?" stammered Buck.
Chris looked down at the little man tucked against his side. He didn't even mind the sticky fingers wound into his shirt. Vin had nodded off after an exhausting day. Chris had come too close to losing him today in more ways than one. "Let's get you home," said Chris rousing Vin enough for the boy to wrap around his neck again. A smile graced Chris' face as he once again heard JD's bellow as they left the restaurant.
"Yes, you did Buck. You said…"

The End

Comments: Joy K

September 2001